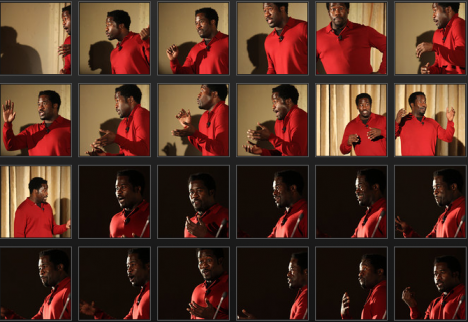 Each year, New Profit's is honored to host some of the most dynamic and though-provoking speakers from across the United States at our annual Gathering of Leaders - our platform for cross-sector dialogue among social entrepreneurs and leaders in philanthropy, business, media, government, and academia. We often include a performance of some sort to add another dimension of inspiration to the event. In recent years, we have hosted Anna Deveare Smith, Maya Azucena, and Daniel Beaty.
Award-winning singer, actor, writer, and composer Daniel Beaty gave a powerful performance in 2011; it left a lasting impression impression on many who attended, and nearly four years later we still hear people rave about it. One person it left a particular impression on was Mauricio Lim Miller, Founder and CEO of Family Independence Initiative, a New Profit portfolio organization with innovative models based on their strongly held belief that low-income families have the initiative and capacity to move themselves and their communities out of poverty.
Yesterday, Mauricio wrote a piece in The Huffington Post, reflecting back on Daniel's performance, entitled "My Mother's Influence: Why We Must Recognize Personal Relationships." Mauricio addresses his discomfort with the fact that, in a piece that praised his mother, many audience members viewed Daniel's teacher as critical in his development.
"So although Daniel not only wrote a play in tribute of his mother and did a beautiful moving performance of his dreams for her in front of all of us, no one credited her. And although I lead a national movement-building organization in honor of my mother, no one credits her. They are more likely to credit and donate to UC Berkeley, where I went to college. What is sad in both our cases is how little attention, credit, or support is given to our mothers or to the other personal, loving relations that are responsible for our foundations. Without those relationships, the teacher would have never met Daniel. Without my mother, my work wouldn't have been possible. Our mothers, fathers, and guardians are dismissed and assumed to not be as capable as even a 25-year-old social worker or a teacher just out of college. This adds to the myth that low-income adults are disinterested or dysfunctional."
We love that Mauricio challenged those in the room with him at the time, and is bringing the important question up again in this series. Disrupt, challenge, question, be curious. These are things we value at New Profit.
Photos: Daniel Beaty at New Profit's 2011 Gathering of Leaders. Copyright New Profit Inc.