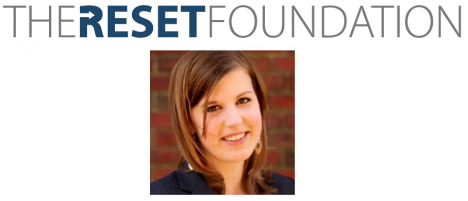 We want to congratulate former New Profit employee Jen Anderson on being honored as a Forbes 30 Under 30 Social Entrepreneur. Anderson is being recognized for co-founding The Reset Foundation, an organization with a unique vision for changing the U.S. criminal justice system and combating poverty:
"Our mission is to dismantle the cycle of poverty and imprisonment by creating an alternative approach to prison—one focused entirely on building lives and bettering communities. Reset campuses serve as a model for the justice system, demonstrating that a new mindset and approach can increase public safety, reduce costs, and improve lives.
By creating an experience centered on learning, education, and reentry, we empower sentenced individuals to reset their life trajectories—to envision and achieve futures of meaning, opportunity, and purpose. We put parents back in the home to raise healthy, educated children. We improve the vitality and safety of communities. We give a chance to generations."
The Reset Foundation is currently piloting its model at two "Reset Campus" sites in New York City and San Francisco. The campuses are an alternative to prison for young adults that focus on academics, career, and healthy living in a lower-cost, safer, less dehumanizing environment. Find out more about the model here.
This innovative and disruptive approach is at the cutting edge of criminal justice system reform efforts, which have been gaining speed in recent years thanks to groundbreaking work by social entrepreneurs like Anderson, bipartisan policymakers, and activists. These efforts could have reverberate well beyond the justice system itself, which is why New Profit has made recent investments in the space. We are partners in the Massachusetts Juvenile Justice Pay for Success Initiative (MAPFS), an effort launched last January by the Commonwealth of Massachusetts and Roca Inc. that aims to help at-risk young men and women escape the vicious incarceration cycle.
To learn more about the current state of play on criminal justice reform, read this "5 Questions on CJS" piece from our former fellow Adam Lewis.
New Profit currently serves as a fiscal sponsor for The Reset Foundation.