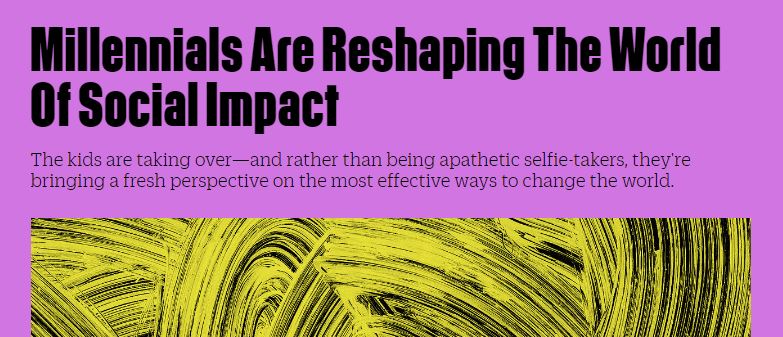 Today in Fast Company Co.Exist, New Profit's Founder and CEO Vanessa Kirsch and Deloitte's Dana O'Donovan published a piece entitled "Millennials are Reshaping the World of Social Impact." The piece had a simple message: Despite what you may have heard, diverse members of the millennial generation are already leading the way in social problem solving.
The piece draws lessons from our groundbreaking collaboration with Deloitte and highlights the transformative experience we had at the Deloitte Foundation's National Case Competition in Dallas earlier this year. We feel incredible lucky to be able to continue to work with Deloitte to break down the systemic barriers standing between people and opportunity in America.
We also feel lucky to have recently met some of these extraordinary young leaders - including Derwin Dubose and Vedette Gavin of New Majority Community Labs (check out their awesome #NPGathering16 video) and Alejandro Gac-Artigas of Springboard Collaborative. They are working to empower people, families, and communities in far-reaching and exciting ways.
Derwin, Vedette, and Alejandro exemplify the three key traits about millennials and social problem solving that we highlight in the piece:
MILLENNIALS UNDERSTAND THAT SOCIAL PROBLEM SOLVING IS COLLABORATIVE AND MULTIFACETED
The venture philanthropy movement, and much of philanthropy more broadly, has long been focused on finding and scaling great nonprofits as an avenue to systemic change. This is an important approach, but we've found that it doesn't go far enough or fast enough to solve big problems. The philanthropic sector, with more millennials involved, is now starting to work in partnership with others from government and business, putting more focus on collaborative, cross-sector approaches.
MILLENNIALS DO NOT RECOGNIZE THE WALLS BETWEEN SECTORS
They are pursuing social impact wherever they are, starting organizations that blur the lines between for-profit and nonprofit, making values-driven buying decisions, and looking at cross-sector collaboration as required for social problem solving. It's almost as if there never had been an assumption that driving social change was only the job of the social sector.
MILLENNIALS PRIORITIZE SUBSTANCE (IMPACT) OVER STYLE
In a social media-driven world where millennials seem to flock to the flashiest new product or trend, we are inspired to see how millennials also focus so sharply on impact. Millennials make decisions based on personal values first and foremost, and the pursuit to maximize impact is at the center of what shapes all of their thinking and choices.
Check out the full piece here!