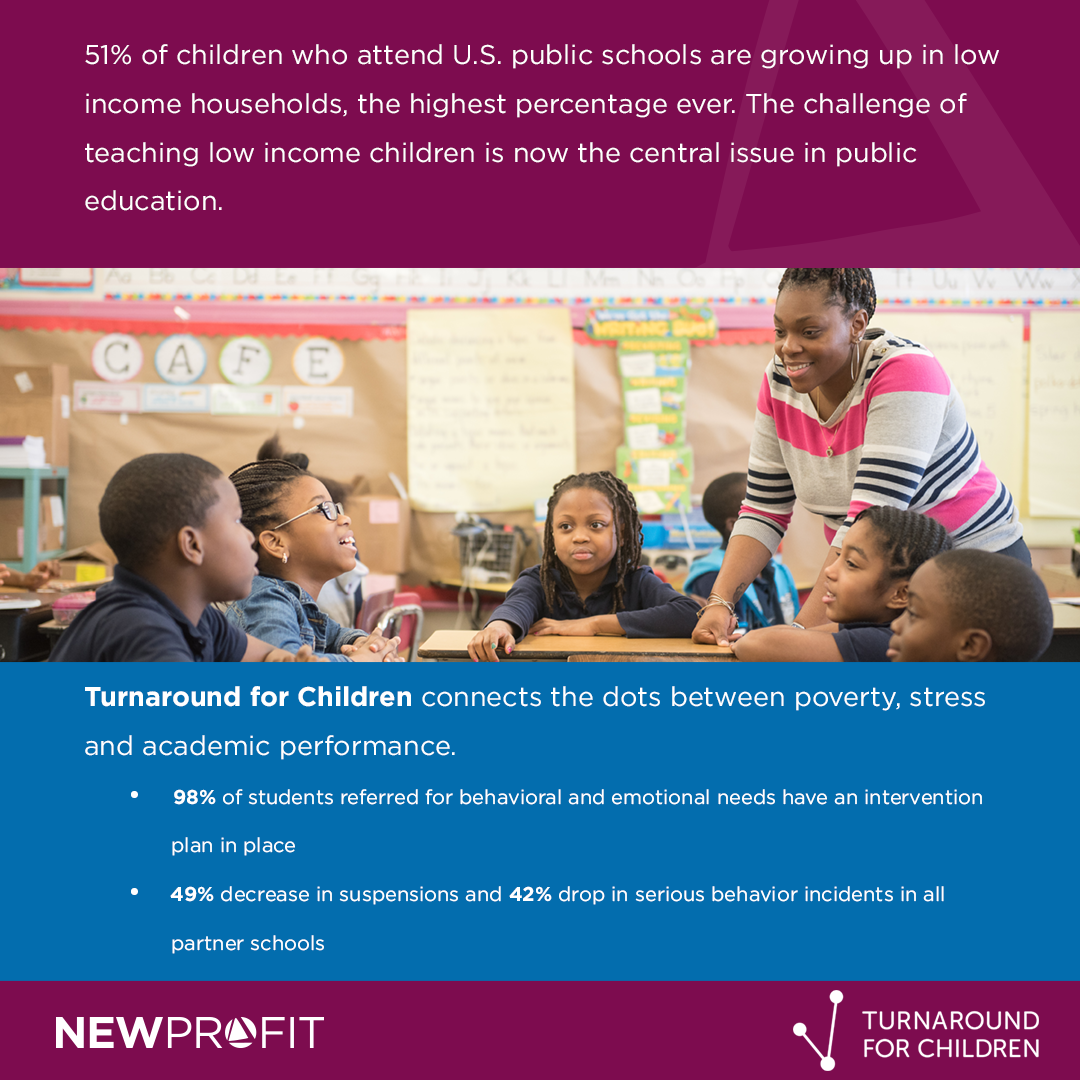 July 12, 2016 (Boston) – New Profit, a national nonprofit venture philanthropy fund working to break down systemic barriers to opportunity in America, is investing $1,000,000 over the next two years in Turnaround for Children. Turnaround for Children connects the dots between poverty, stress and school performance in order to catalyze healthy student development and academic achievement. Turnaround develops tools and strategies, grounded in science, that cultivate a safe environment, reduce stress, increase engagement in learning and accelerate student development and academic achievement.
The Reimagine Learning Fund and the Innovation Fund are each investing $500,000 in Turnaround for Children in acknowledgment of the significant strides the organization has made as a thought leader in the education reform space since New Profit's initial investment in 2010. Since that time, Turnaround has grown its direct service footprint to serve more students, expanded its model to provide professional development to adults in schools, and Turnaround's President and CEO Pamela Cantor, M.D. has become a familiar face in policy conversations and the nationwide dialogue on how to effectively serve students exposed to adversity. Through its reinvestment, the Reimagine Learning Fund will work with Turnaround to deepen its efforts in high-poverty schools to help all students develop the skills and mindsets that are requisite for success in school and beyond. In addition to its reinvestment dollars, New Profit will provide additional strategic supports and advice through its Deal Partner and the Reimagine Learning network. Turnaround for Children's Deal Partner Liz Riker will continue to work closely with the organization to help evolve and strengthen the organizations leadership, economic model and impact strategy.
"New Profit and Reimagine Learning are tremendous partners and supports to Turnaround for Children. New Profit's original investment in Turnaround enabled us to move from our core insight into how adversity impacts student learning and behavior and presents challenges to schools, to the development of an organization focused on both direct and systemic impact strategies designed to address this problem" says Turnaround President and CEO Pamela Cantor, M.D. "Today, we look forward to joining New Profit and Reimagine Learning as critical strategic partners in a movement that recognizes that we will not have an equitable society until we have an education system that recognizes the impact of adversity on student development and learning and enables all children to develop and thrive to their full potential."
Science explains the connection between poverty and school performance – it is key to understanding the problem and also key to the solution. Children living in poverty often endure stress from adverse experiences, such as exposure to violence, loss of a loved one or homelessness. Stress gets inside their brains and bodies with risks to health and learning. Unfortunately most schools aren't designed to address the impact of stress on learning. The good news is the brain is malleable. Turnaround is using science to address what stress does to children and to schools.
Turnaround's strategy is anchored by three interwoven elements:
Developing tools based on research and practice that can be implemented in schools and school districts
Partnering with high-poverty public schools to accelerate healthy student development and academic achievement
Sharing insights and resources to help others understand and address the impact of adversity on learning
In each of its partner schools, Turnaround: 1) provides professional development and coaching for teachers in instructional strategies that ensure safe, engaging, productive classrooms and drive critical areas of student development and engagement that are most impacted by adversity; 2) helps schools build a multi-tiered system of student support (including a partnership with a community-based mental health partner) that implements schoolwide policies and procedures to support all students, classroom-based and group- level interventions for at-risk students and individualized services for the highest-needs students; and 3) partners with school leaders to support the development and enhancement of a schoolwide vision and essential systems that put positive disciplinary practices in place and foster a culture of strong attachment and high expectations for student growth and achievement.
98 percent of students referred for behavioral and emotional needs in Turnaround's partner schools have an intervention plan in place*, and there has been a 49 percent decrease in suspensions and a 42 percent reduction in serious behavior incidents**. (*SY2014-15 data, **all Turnaround's 2012 partners (including those that have since "graduated") from 2011-14)
The new funding from the Reimagine Learning and Innovation Funds will be unrestricted and supplemented by strategic support provided by Deal Partner Liz Riker. In addition to the support of the Deal Partner, Turnaround will receive support from New Profit's Design Council, a set of advisors who provide expertise in the areas of learning differences, evaluation, and systemic impact strategy, among others.
"Turnaround for Children's approach to bringing science based tools and practices into schools to help them address the impact of adversity based stress on student development and learning is unique and powerful. Our investment will help them further hone and execute their strategy for impact, scale and influence to expand their work to schools across the country", said Liz Riker, a New Profit senior partner who has been leading the engagement with Turnaround as a member of the board since 2013. "Given the organizational evolution over the past several years, we are confident in Pam Cantor's vision and the capability of her leadership team to be able to execute on their ambitions plans for impact and we are excited to be investing in this next phase of growth for Turnaround."
During the time of this investment, New Profit will focus its support in a number of areas: 1) Evolving the program model to drive towards even greater impact, 2) Strengthening the ongoing work of program monitoring and the program's evidence base, 3) Building out Turnaround's long term scale strategy, 4) Furthering Dr. Cantor's position as a movement leader and leveraging Turnaround's platform to change school environments, and 5) Maximizing the talents on the team to execute the growth plan.
Learn more about Turnaround for Children by visiting their website here.
New Profit is a national nonprofit venture philanthropy fund. The organization's mission is to break down the barriers standing between people and opportunity in America. To do so, New Profit is working to transform the way America educates its children, propels people towards social and financial stability, and creates healthy communities. Since being founded in 1998, New Profit has collaborated with philanthropists, social entrepreneurs, foundations, businesses, policy advocates and other entities to help drive more than $1 billion towards innovative, disruptive approaches to social problem solving. New Profit's unique, integrated approach brings together the following activities: investing through the New Profit Innovation Fund and Focus Funds; changing public policy through America Forward; and building communities of learning and action around innovative new approaches to change through the Gathering of Leaders and other activities. www.newprofit.org