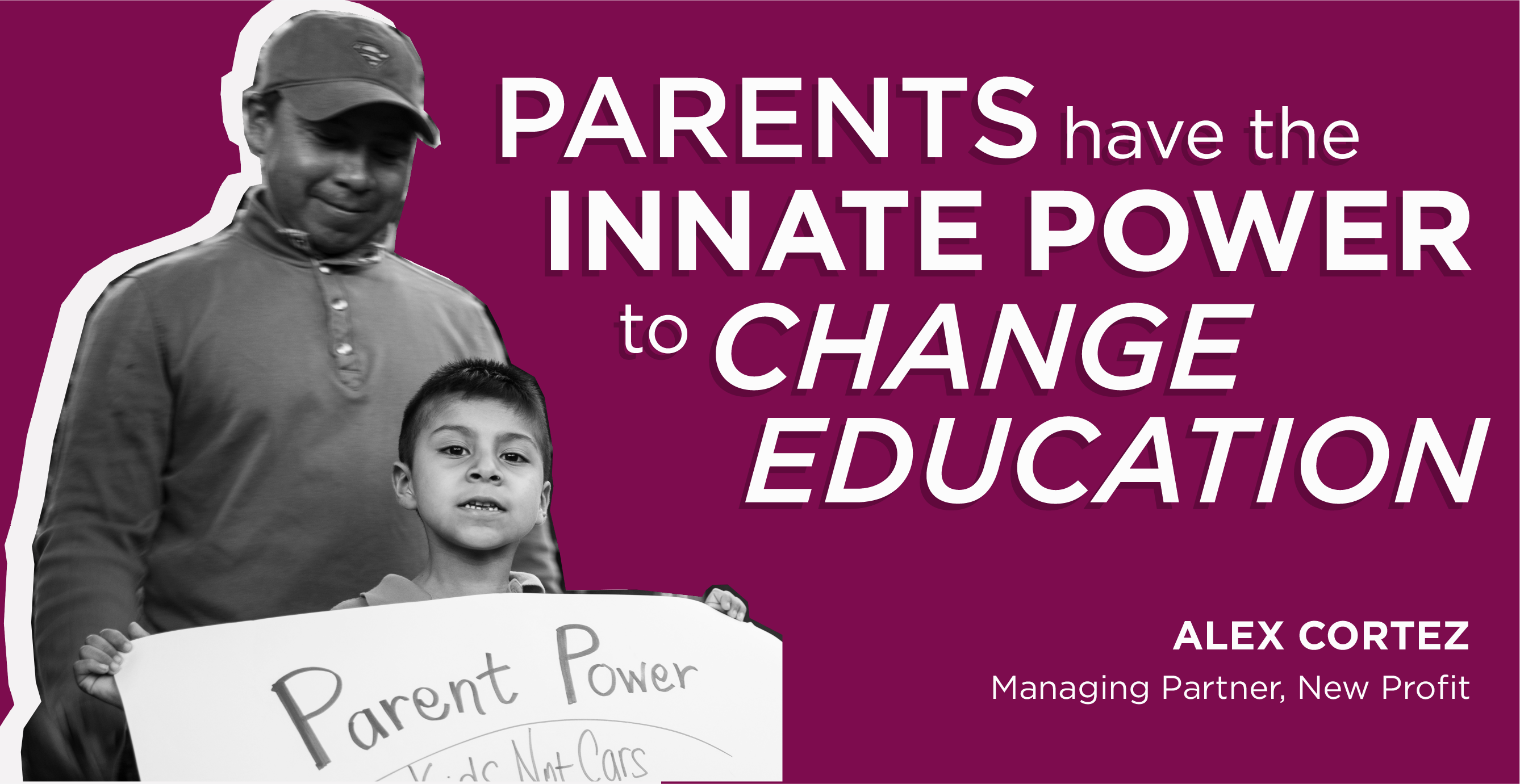 Digital platform provides insights and tools to better understand how to support parent empowerment in education and better use measurement to maximize the impact of this work.
April 23, 2019 (BOSTON) - New Profit, a venture philanthropy organization that has backed some of America's highest impact education social entrepreneurs, today announced the launch of www.parentpowerined.org.
This site was created through a collaboration with 18 leading organizations in the parent empowerment space dedicated to supporting parent-led efforts to improve education and life outcomes for underserved communities.
Alex Cortez, the site author, explains, "Transforming education systems requires informing and organizing parents so they can exercise their innate power - individually and collectively - to create and sustain change. A growing community of organizations are dedicated to parent empowerment in education. As these efforts scale, they inevitably have to explore how to best use measurement to better plan and execute this work, learn from their experiences, and attract allies and funding. And funders are equally hungry to better understand parent empowerment and measurement to help them fully unlock the value of their grant-making."
This website is an open resource for entrepreneurs and funders, and includes content and downloadable resources organized around four themes:
What is parent empowerment in education and why is it key to changing education systems? What are values driving parent empowerment, what are the four strategies for how informed and organized parents can exercise their power, and what roles do parents play in building an infrastructure of parent power?
Measurement 101. Why is measurement so important (and complicated)? What is the difference between measures of inputs, outputs, outcomes and infrastructure? How do organizations set targets? And how can parent empowerment organizations link their work to student outcomes?
Measurement by parent empowerment strategy. Where and how does measurement work in planning and executing each of the four parent empowerment strategies?
Measurement by parent empowerment action. How do organizations use measurement in planning and executing ten common actions such as workshops/trainings, canvassing, phone banking and public actions?
---
Maya Martin, Founder and Executive Director of DC-based PAVE (Parents Amplifying Voices in Education) who contributed to the website said: "There is so much great work happening in education that opens our systems to the power of parents. And yet, we could do so much more if we shared best practices to improve outcomes for the reason why we do this work: our kids. All of us are wrestling with what to measure to help us better support our kids and their schools - and help funders better support us in getting this work done. We know what the research says and what our own results show about the impact of powerful parents in all parts of the system. Now we'll have the opportunity to scale these learnings from leading organizations across the country."
When successful, parent empowerment efforts are transforming the education system and lives of children:
The social entrepreneurs who contributed to this effort are among the most innovative, emerging players in the education ecosystem. They are 50CAN, Charleston Rise, EdLoC (Education Leaders of Color), Democrats for Education Reform, EdNavigator, Faith Acts for Education, Families Empowered, Flamboyan Foundation,GreatSchools, GO Public Schools, Innovate Public Schools, Learning Heroes, Murmuration, Our Voice Nuestra Voz, Parent Revolution, PAVE (Parents Amplifying Voices in Education), SFER (Students for Education Reform), and Stand for Children.
Funders for this effort include the Carnegie Corporation of New York and the Walton Family Foundation.
New Profit will be sharing this resource and additional case studies on strong parent empowerment practices through a partnership with The 74. We invite you to read the inaugural article that provides an overview of this digital resource: Parent Power is Key to Changing Education Systems, and Measurement is Key to Scaling Parent Power.
---
For more information, visit www.parentpowerined.org or contact Alex Cortez at Alex_Cortez@newprofit.org.