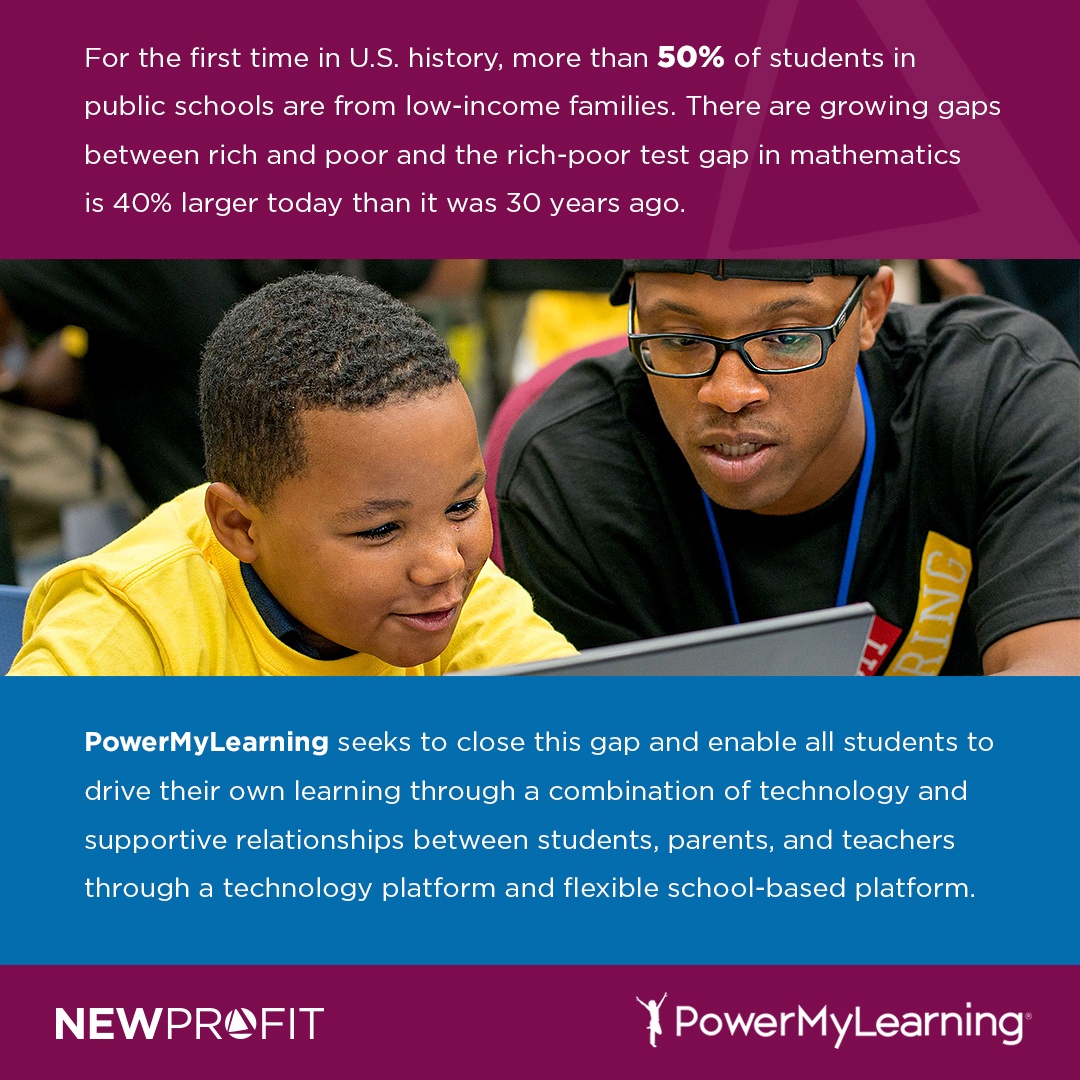 July 12, 2016 (Boston) – New Profit, a national nonprofit venture philanthropy fund working to break down systemic barriers to opportunity in America, is making a significant unrestricted operating investment in PowerMyLearning through our Reimagine Learning Fund. The Fund seeks to transform learning environments to focus on an understanding of learner diversity and a commitment to student-centered learning to ensure that all students – including those who have been systematically under-served by traditional schools – are supported to succeed.
The Reimagine Learning Fund is investing in PowerMyLearning because they view the organization as occupying a unique space in the education technology landscape. With its focus on strengthening learning relationships, PowerMyLearning brings a unique perspective on how technology can be leveraged to improve supportive learning relationships and drive academic outcomes for students from low-income families. This investment provides an important piece of the puzzle for what the future of technology-enabled personalized learning looks like for all students.
"PowerMyLearning addresses a critical problem in education today: our factory model of education is not personalized, does not help students develop ownership of their learning, and excludes parents," says Elisabeth Stock, CEO and Co-Founder of PowerMyLearning. "Our organization is at an inflection point as we seek to dramatically increase our impact. We look forward to partnering with New Profit to leverage their expertise in bringing organizations to scale."
For the first time in U.S. history, more than 50% of students in public schools are from low-income families. There are growing gaps between rich and poor and the rich-poor test gap in mathematics is 40% larger today than it was 30 years ago. PowerMyLearning seeks to close this gap and enable all students to drive their own learning through a combination of technology and supportive relationships between students, parents, and teachers. PowerMyLearning provides both a technology platform and flexible school-based technical assistance model to develop student mastery and ownership. PowerMyLearning operates a comprehensive school-based partnership model that reaches 38 high-poverty schools in four regions and offers a high-quality online platform for learning as well as rigorous in person coaching. PowerMyLearning's services and platform are integrated with social and emotional learning competencies as well as Universal Design for Learning principles. It focuses its work on the most underserved students – those who live in areas of concentrated poverty, have learning and attention issues, and deserve a highly relational and engaging learning environment.
PowerMyLearning has clear results showing the impact it has already achieved. Their partner school students showed meaningful growth in math proficiency as they outperformed comparison students in math by an average of 6.9 percent growth per year over a three year period (2012-2015). Students with IEP showed amazing growth as 57% moved up and out of the lowest state test score performance level during the 2013-2014 school year. Compared with the previous year's sixth graders 32%, you can see a 25 percentage point year-over-year improvement. For teachers, 95% reported an improved ability to personalize their instruction and support student driven learning, and more than 70% of teachers reported they had improved their work with families.
The new funding from New Profit will be unrestricted and supplemented by strategic support provided by Deal Partner Shruti Sehra, who commented on the investment: ""We are thrilled to be able to invest in PowerMyLearning who is playing a unique role in the education technology space by strengthening the connections between parents, students, and teachers while also engaging young people as effective agents and guides in their learning journeys that are individualized and customized to each student's unique talents and needs. The combination of these things could help shape the future direction of the personalized learning space in ways that we see as critical to achieving our vision to fundamentally reimagine the future of teaching and learning in this country."
PowerMyLearning will also receive support from the "Design Council", a set of advisors who provide expertise in areas of learning differences, evaluation, and systemic impact strategy, among others. During the time of this investment, New Profit will focus its support on three areas: 1) Implementing and learning from the new PowerMyLearning strategic plan to ensure deepening of the organization's impact, 2) Establishing a strong thought leadership strategy to share PowerMyLearning's unique perspective broadly, and 3) Board Development to continue growing and strengthening PowerMyLearning's already impressive board of directors.
Learn more about PowerMyLearning by visiting powermylearning.org.
About New Profit: New Profit is a national nonprofit venture philanthropy fund. The organization's mission is to break down the barriers standing between people and opportunity in America. To do so, New Profit is working to transform the way America educates its children, propels people towards social and financial stability, and creates healthy communities. Since being founded in 1998, New Profit has collaborated with philanthropists, social entrepreneurs, foundations, businesses, policy advocates and other entities to help drive more than $1 billion towards innovative, disruptive approaches to social problem solving. New Profit's unique, integrated approach brings together the following activities: investing through the New Profit Innovation Fund and Focus Funds; changing public policy through America Forward; and building communities of learning and action around innovative new approaches to change through the Gathering of Leaders and other activities.