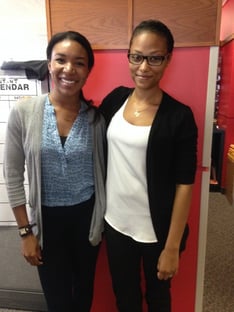 We're extremely pleased to welcome two new interns onto our team this week -- Welcome Emani Holyfield and Sarah Duarte!
Emani comes to us from Tufts University, where she is going in to her senior year. Emani is a Tisch Scholar, which is a prestigous multi-year leadership program for Tufts undergraduates focused on helping these individuals become effective active citizens and catalysts for change. Emani has significant experience in our space having served as a Student Advocate Intern at LIFT, a Special Projects Fellow at Root Cause, and a Student Volunteer for Peer Health Exchange. She most recently spent this summer as an intern at Google. Emani will be working with the team that plans our 2015 year's Community of Leaders event for our portfolio social entrepreneurs and board leaders.
Sarah also comes to us from Tufts - she recently graduated in May - where she majored in Sociology with a focus on Social Change and Inequalities. Sarah has a strong background in leadership, public relations work, and project management through her work with Emerging Black Leaders and the Tufts A Cappella group, Essence. She's excited to help convey messaging of New Profit and our portfolio organizations in innovative and powerful ways. Sarah will be working with the Communications team in a myriad of ways, including social media, branding work, Gathering of Leaders prep, and right here on the blog.
We are thrilled to have them here!