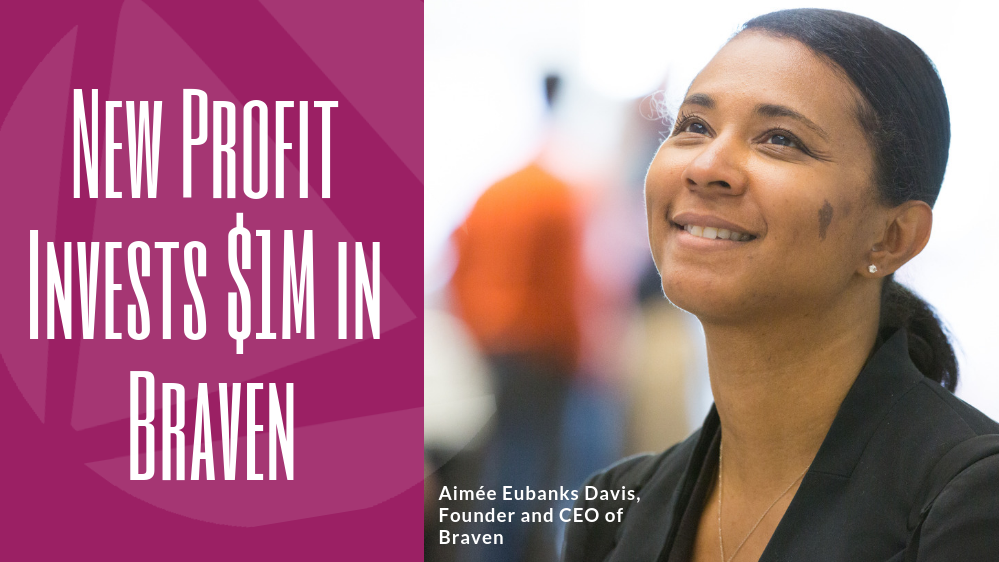 In partnership with universities and employers, Braven uses a scalable coaching and fellowship model backed by technology to bridge the education to employment gap for first generation college students

May 23, 2019 - New Profit, a national venture philanthropy organization, announced that it will support Braven with $1 million in unrestricted funding to help founder and CEO Aimée Eubanks Davis and her team expand the organization's impact. Eubanks Davis was just named a 2019 Obama Foundation Fellow and was also a member of the second cohort of New Profit Women's Accelerator entrepreneurs in 2017.

Braven is showing strong potential battling a pressing problem that feeds inequality: Only 25% of about 1.2 million low-income, first-generation college enrollees will attain a quality first job or go to graduate school. Since being founded in 2013, the organization has served nearly 1,600 "Fellows" across the Bay Area, Chicago, and Newark and has seen positive results in college persistence and internship and job attainment. By 2022, they envision serving 10,000 students.

According to Braven's 2019 Jobs Report, 69% of the most recent class of fellows who graduated college were in a strong full-time job or enrolled in graduate school six months after leaving college. This outpaces the peer group of non-fellow Black and LatinX students in public universities by 23 percentage points and also exceeds the national average for all students by 15 percentage points. Braven's results-driving model centers on partnering with large public universities and employers to:
Build cutting-edge career education into the undergraduate experience for low-income and first-generation college students;
Provide students, who often feel disconnected from campus, with a network of supporters and sense of belonging;
Become a systemic solution within and across universities to fuel a generation of leaders as diverse as America's future demands; and
Create a pipeline of demand in the private sector for talented young people who successfully complete Braven's program (partners today include employers such as Prudential, Charles Schwab, eBay, Adobe, Credit Karma, Salesforce, Cisco, Google, LinkedIn, and Teach For America).
"For the health of our country, we need to ensure that our college students from humble beginnings who have earned the right to compete are set up to maximize their incredible potential," said Eubanks Davis. "The information capital and group of influencers that the New Profit network opens up for Braven and myself as a female social entrepreneur of color is catalytic as we work to dramatically scale our impact."
To hear more about New Profit's investment in Braven and how we came to select this breakthrough organization to join our portfolio, watch the video below.
---