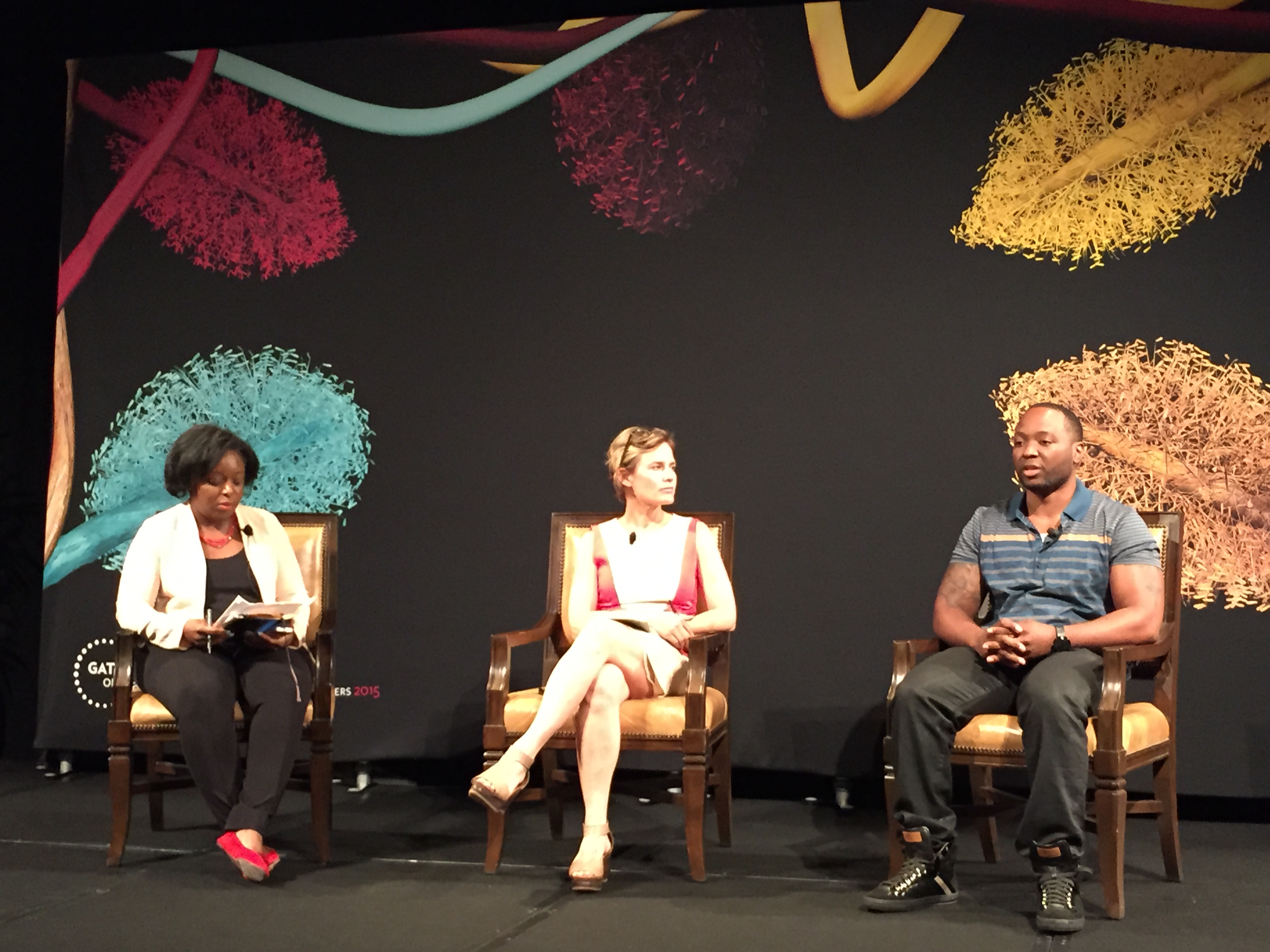 Challenging, provocative themes and the dialogue (and action) we build around them are what drive New Profit's Gathering of Leaders. This year at #NPGathering15, we have a particularly dynamic and energetic group of speakers and participants who are pushing us all outside of our comfort zones and forcing us to think differently about how bigger and better change can happen.
We just heard from Code for America Founder and Executive Director Jen Pahlka (center in above picture), Black Girls CODE Founder & Executive Director Kimberly Bryant (at left) and Pigeonly CEO Frederick Hutson (at right) talk about a huge, important topic. Through the lens of technology, they discussed how problems that get solved have everything to do with who's doing the solving: their experience, perspective and insights into whom they're solving problems for. Unexpected entrepreneurs—and entrepreneurs attacking problems from unexpected places—open up new possibilities for big solutions.
Pahlka's Code for America welcomes fellows on leave from the tech sector and works with them to build open source technology to make government services simple, effective and easy to use. As an example, she presented a short case on how her fellows developed a solution that streamlined California's food stamp application process from more than 50 pages to less than 10. More importantly, she articulated a bridge between the tech and social innovation sectors that isn't always recognized: for both sectors, said Pahlka, "The path to solutions is knowing your user." Going a step further, she said, "We can't build solutions FOR people, we must build them WITH people."
Through his company Pigeonly, Hutson is disrupting the perverse system that governs telecommunications for millions of incarcerated Americans. Because he spent time in federal prison himself, his insights are built on experience and understanding that others don't have. "Being different in that respect is my greatest strength," he said. Building on that theme, he articulated some challenging issues for attendees to think about. "It's hard raising money for an entrepreneur, but it's even harder when you're raising money from people who don't even know the problem you're trying to solve exists," he said. "And I want to challenge foundations and investors who are looking to make an impact to be open to the idea that the people who are going to solve the problems you want to solve may look different than you think."
Bryant's Girls Who Code aims to introduce programming and technology to a new generation of coders, especially women of color, who will become builders of technological innovation and of their own futures. Her model powerfully exemplifies themes of diversity, inclusiveness and constituent-led change that are at the heart of #NPGathering15.
What do you think?