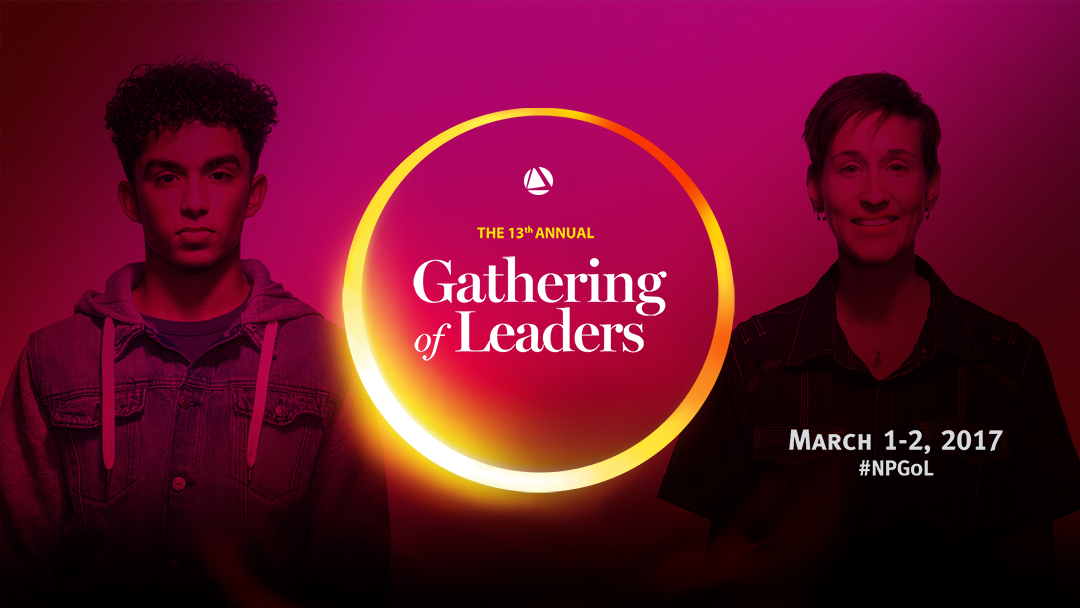 We're excited to continue our firestarter sessions, as we have in past Gatherings, to energize the room before jumping into our plenaries. Stay up to date on all of our discussions via our live stream.
Joia Pardo Matthews, Harmless Harvest
First up was, Joia Pardo Matthews of Harmless Harvest to share her story on race and the power of proximity in practice. Growing up in an immigrant neighborhood, Joia noted that she hadn't truly acknowledge race until she went to college and was faced with adversity. However, this isolation and distance that she experienced motivated her to find ways to come together. Reflecting on these experiences, and learning how to raise two biracial children in our current political climate, Joia noted that the Gathering is her chance to plug in, and find answers outside of her bubble.

Ali Noorani, National Immigration Forum
Next was Ali Noorani of the National Immigration Forum, echoed Joia sentiments and told a story of a close friend who voted for President Trump, and the surprising hope that brought for him moving forward in his work on immigration. "At this moment in time, I am hopeful for the future because I know there are a lot of people who voted for President Trump, and believe in the Golden Rule. It's a challenge, but I'm excited for that challenge," he concluded.
Christian Beauvoir, LA Trust for Children's Health
Christian Beauvoir, of the LA Trust for Children's Health, and one of our Millennial Impact Fellows, began with a story of his immigrant background, and the importance it's had on his trajectory in the social impact space. He noted his characteristically Arminian eyebrows and his Haitian smile, both of which were carried by refugees escaping genocide. Connecting his past to his current work, Christian emphasized the power of young people, and the tremendous impact they can have if they're given the resources to do so. "You cannot empower young people, you can only create opportunities for young people to empower themselves," he concluded.
Emily Hadley, Duke College Advising Corps
Following Christian was another one of our Millennial Impact Fellows, Emily Hadley, of Duke College Advising Corps. Her story started similarly, reflecting on a moment in time that shaped her future. Upon high-school graduation, preparing for her transition to Duke University from rural New Hampshire, Emily received a book from a professor of hers. "The act of giving me a book, and not just any book, but a book that had a direct connection to me, showed that he saw me," she said of the small gesture, which she now utilizes while advising her students. "My gift of a book is about more than knowledge, it's a gift about being recognized," she said.
Liz Alarcon, Children's Movement of Florida
Another one of our Millennial Impact Fellows, Liz Alarcon of Children's Movement of Florida, led our third firestarter, discussing how the passing of her mother motivated her to find her true purpose in early childhood education. "Through the devastation, there was a lot of soul searching. What do I want to do with this one life?" After years of searching, Liz found her home, and her purpose, with the Children's Movement of Florida. "I am working towards fulfillment and purpose in a place that needs me," she concluded.
Emi Kolawole, Dexign LLC
Emi Kolawole kickstarted the final plenary of today, highlighting the power of connecting human design with communication. "I realized in figuring out where human design and communication intersected, how to communicate our unconscious bias in a dynamic and creative way," she said of the overlap that has since developed into a passion point of hers. "The most important thing to me isn't media, it's the act of getting back to communicate the ideas that matter to them," noting the power of communication within the social impact space.
Hiewet Senghor, Black Teacher Collaborative
Following Emi in kickstarting the Why Atlanta discussion was Hiewet Senghor who focused on the power of opportunity, and finding creative ways to utilize privilege to join movements of social change. "I grew up in a community that allowed me to dream boldly, to achieve anything I wanted to achieve, while acknowledging racism," she said of her upbringing that translated into the work she did over at Teach for America, as well as her current work with the Black Teacher Collaborative. "I was surrounded by an amazingly diverse group of African American teachers who were committed to my success," noting the motivation behind her current focus in creating similar spaces for black children now. "I hope to give black children the same opportunities I had, so they too can think boldly and think that they can change the world," she concluded.
Ashley Edwards, MindRight
Ashley Edwards led a powerful firestarter, honoring the story of her father's trauma, and the trauma she's seen in the students she works with each day. As a Millennial Impact Fellow, Ashley shared her story, which highlighted the detrimental impact trauma has on a student's future. "We are letting our inner city youth suffer from trauma and silence, and I refuse to live in a world where we allow for untreated trauma," she said of the motivation behind creating her organization, MindRight which utilizes text services to offer mental support to students.
Mark Murphy, GripTape
Next up was Mark Murphy, who shared stories of education and the power of ownership. "We can put young people in the driver seat of their learning, and sit in the passenger seat," noting the need to support and empower, but lend ownership to those who need it most. "I'm seeing them hungry, I'm seeing them confident in ways I've never seen before," he concluded, looking towards the future of invigorating young people to take control of their education.
Alan Ludlow, Monitor Institute & Deloitte Consulting LLP
Alan Ludlow got the room energized by leading a Tai Chi exercise that had everyone out of their chairs. Guiding the room of over 300 attendees, Alan showcased the power of Tai Chi in its ability to refocus our minds, bodies and souls.
Rafael Alvarez, Genesys Works
Rafael Alvarez spoke of the barriers he faced while starting his organization, and the power that passion can have to override every obstacle he faced. "They told us it would be impossible for us to make a difference in just one year. Because I am hispanic, that I was going to have a very hard time raising money, and it'd be best to get a board of all white males," he said of the advice he received when he first started his venture. His advice-givers were wrong. Due to the power of conviction, passion, and determination, Rafeal was able save thousands of children from poverty.