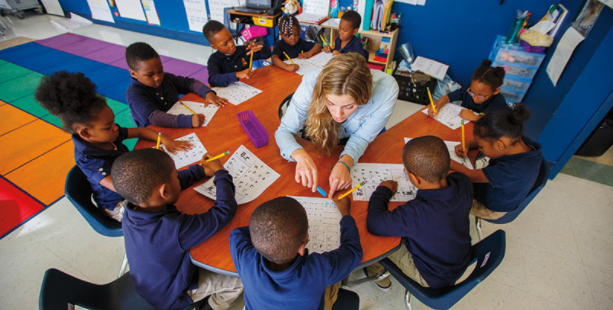 In December 2016, we released a final report highlighting the accomplishments of the Pathways Fund, a five-year fund with the goal of strengthening the bridge between education and workforce development in order to foster opportunity and access for low-income youth. In the coming weeks, we will provide an in-depth look into the report, the success stories of the Pathways Fund and the lessons we've learned.
In 2010, New Profit was awarded a five-year $25 million federal Social Innovation Fund (SIF) grant to launch the Pathways Fund. The mission of the Pathways Fund was to strengthen the bridge between education and workforce development in order to foster opportunity and access for low-income youth. As part of the SIF, the Pathways Fund provided financial and strategic support to help increase the reach and impact of six innovative nonprofit organizations working toward this collective mission - College Advising Corps, College Summit, iMentor, Single Stop, Year Up, and YouthBuild USA.
This is the first of a four-part blog series that we'll be sharing over the next few weeks, which pulls out our key successes and lessons learned related to the Pathways Fund. This post focuses on building a learning community through convenings.
Key to the Pathways Fund approach is creating a community of learning and action in which practitioners, funders, researchers, policymakers, and other thought leaders have a space to share, support, and learn from each other. The core Pathways Fund learning community included CEOs and senior staff from the six organizations and co-funders. New Profit cultivated and supported this learning community primarily through regular two-day convenings throughout the initiative, during which organizations built relationships and exchanged ideas with their peers, heard from field leaders, and engaged in targeted workshops. The objectives for our time together evolved over time to meet the needs of the community.
New Profit identified some lessons learned around convenings for network-based initiatives and some best practices for how to maximize their value for participants:
Leverage Talent Within Network
One of the most significant assets of a network-based initiative is the opportunity to build meaningful and strategic relationships with leaders and peers in the field. We found this to be particularly true for high-performing, leading organizations who each have a deep and unique set of experiences and insights to share. Pathways organizations consistently valued time to learn from one another, and appreciated the unfacilitated time it gave them to discuss challenges and successes with other organizations' leaders. These unstructured interactions were particularly valuable for building a sense of community, increasing familiarity with other program models, and opening opportunities to discuss potential partnerships.
Customize Program To Organizations' Shifting Priorities
To ensure relevancy and participant engagement, we found that it was crucial to build the agenda around the organizations expressed needs. One helpful guiding principle is that every session should 1) provide a product, skill, or idea that participants can easily share with their colleagues and apply to their organizations, and/or 2) provide access to individuals (funders, policymakers, field leaders) that it would be difficult for individual participants to access otherwise. New Profit surveyed the leaders of Pathways organizations ahead of each convening to discuss priority areas they would be interested in discussing as a group. This process helped surface areas of convergence and also allowed the team to identify points of confusion or frustration.
Set Concrete Goals And Action Steps
In the early years of the fund, the time at Pathways convenings was well spent on community-building. In subsequent years, organizations looked for additional purposes for these in-person meetings. In particular, organizations expressed a desire to work on activities with concrete goals and strategies with direct implications for their work, as opposed to general brainstorming and ideation sessions (for example, using convening time to help operationalize some of the collaboration ideas seeded during convenings). Additionally, organizations looked for concrete next steps to continue the work after the convening, as well as clear takeaways and accomplishments as a result of the convening.
To read the full report, click here.
Special thanks to the primary funders of the Pathways Fund:
Corporation for National and Community Service | Blue Ridge Foundation New York | Carnegie Corporation New York | The Kresge Foundation | Oak Foundation | Robin Hood Foundation | State Street Foundation | JPMorgan Chase Foundation | Open Society Foundation | SeaChange Capital Partners