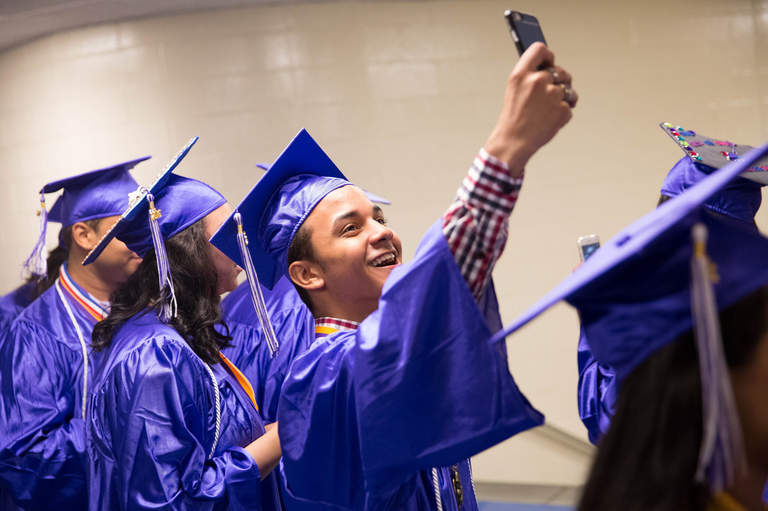 In December 2016, we released a final report highlighting the accomplishments of the Pathways Fund, a five-year fund with the goal of strengthening the bridge between education and workforce development in order to foster opportunity and access for low-income youth. As part of the SIF, the Pathways Fund provided financial and strategic support to help increase the reach and impact of six innovative nonprofit organizations working toward this collective mission - College Advising Corps, College Summit, iMentor, Single Stop, Year Up, and YouthBuild USA. The third of our six Pathways Fund organizations is iMentor.
iMentor is a national organization that builds mentoring relationships which empower first-generation college students from low-income communities to graduate high school, succeed in college, and achieve their ambitions. Through our school-based program, they match every student in their partner public high schools with a college- educated mentor for a minimum of 3 years. iMentor provides the structure and support necessary for these relationships to be successful, including a rigorous college success curriculum and data-driven case management from iMentor staff. Since 1999, iMentor has matched more than 20,000 students with mentors.
Key Outcomes
Grew Lives Touched
Students Served: iMentor served 5,650 students in 2015 through its NYC and nonprofit partnerships, almost 1.5x the number of students served at the start of Pathways.
Communities Served: Over the 5-year initiative, iMentor successfully expanded into new communities across the country through its partnership with Big Brothers Big Sisters, and through its first direct replication sites. In 2015, they partnered with 39 public high schools.
Impacted Students' Lives
College Enrollment: 65% of iMentor students enrolled in college on-time as compared to the national average, which is 52% for students from low-income communities.
College Persistence: 76% of iMentor students persist to the third semester of college compared to the national average, which is 69% for students from all demographics.
College Completion: 65% of iMentor students enrolled in college on-time as compared to the national average, which is 52% for students from low-income communities
Key Organizational Activities & Milestones (over 5-year SIF Initiative)
Model: Through Theory of Change work with New Profit, iMentor refined its model from being a broad-based mentorship program to focusing on college success with long-term mentoring relationships as its primary program lever for achieving student outcomes.
Strategy: iMentor revised its scale strategy to include both replication of direct service regions and expansion through a partnership model that empowers nonprofit partners (e.g., Big Brothers Big Sisters) to run the iMentor model in their local communities. These partner programs, now operating in 16 communities across the country, are cost-effective, have high-quality outcomes, and are highly scalable. iMentor has also launched two regional offices in Chicago and the San Francisco Bay Area.
Evaluation: iMentor is undergoing a rigorous quasi-experimental evaluation study, expected to continue to 2018, which will increase the level of evidence for the iMentor program. They also built up their internal evaluation capacity, including hiring a Managing Director of Research and Evaluation, who leads a team of analysts in leveraging data for program learning and improvement.
Collaborations: iMentor formally and/or informally collaborated with each of the other five Pathways organizations over the five-year initiative, e.g. iMentor and YouthBuild USA shared best practices related to the effective use of technology platforms, and iMentor provided peer advice to YouthBuild USA on its online career and postsecondary planning platform.
Special thanks to the primary funders of the Pathways Fund:
Corporation for National and Community Service | Blue Ridge Foundation New York | Carnegie Corporation New York | The Kresge Foundation | Oak Foundation | Robin Hood Foundation | State Street Foundation | JPMorgan Chase Foundation | Open Society Foundation | SeaChange Capital Partners