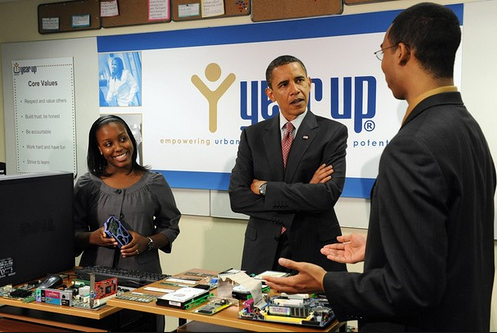 In December 2016, we released a final report highlighting the accomplishments of the Pathways Fund, a five-year fund with the goal of strengthening the bridge between education and workforce development in order to foster opportunity and access for low-income youth. As part of the SIF, the Pathways Fund provided financial and strategic support to help increase the reach and impact of six innovative nonprofit organizations working toward this collective mission – College Advising Corps, College Summit, iMentor, Single Stop, Year Up, and YouthBuild USA. The fifth of our six Pathways Fund organizations is Year Up.
Year Up is a one-year intensive training program that empowers motivated young adults ages 18- 24 to reach their full potential through professional careers and higher education. The program utilizes a high expectation, high support model and provides young adults with a unique combination of hands-on technical and professional skills, corporate internships, and coursework eligible for college credits.
Key Outcomes
Students Served: Year Up served more than 2,500 students in 2015 and will serve more than 3,000 in 2016. To date, Year Up has served 14,000+ students.
Communities Served: Year Up currently serves students in 18 U.S. cities nationwide.
100% of qualified Year Up students are successfully placed into internships.
85% of Year Up graduates are employed or enrolled in postsecondary education within four months of completing the program.
Employed Year Up graduates earn an average starting wage of $18 per hour.
Key Organizational Activities & Milestones (over 5-year SIF Initiative)
Theory of Change: With New Pro t's coaching, Year Up broadened its orientation from exclusively growing its direct model to identifying systemic impact opportunities. This led Year Up to focus on partnering with community colleges as a scaling strategy, as well as to its focus on placing a critical mass of Year Up interns with target corporate partners to better demonstrate the students' significant value to companies.
Systemic Impact: In collaboration with America Forward, Year Up actively engaged in advocacy work, and was a key influencer in the reauthorization of the Workforce Investment Opportunity Act. Additionally, Year Up leveraged the Pathways and New Pro t networks to build meaningful connections to other eld leaders, which have helped advance the organization's systemic impact work. For example, through their relationship with Single Stop, another Pathways grantee, Year Up partnered with Miami Dade College, the second largest U.S. post-secondary institution.
Evaluation: Year Up leveraged their SIF grant to secure additional federal funding to conduct a rigorous randomized controlled trial of Year Up's impact. Additionally, they have significantly expanded their internal capacity for measurement and evaluation, and are among the most sophisticated nonprofits in this area.
Special thanks to the primary funders of the Pathways Fund:
Corporation for National and Community Service | Blue Ridge Foundation New York | Carnegie Corporation New York | The Kresge Foundation | Oak Foundation | Robin Hood Foundation | State Street Foundation | JPMorgan Chase Foundation | Open Society Foundation | SeaChange Capital Partners