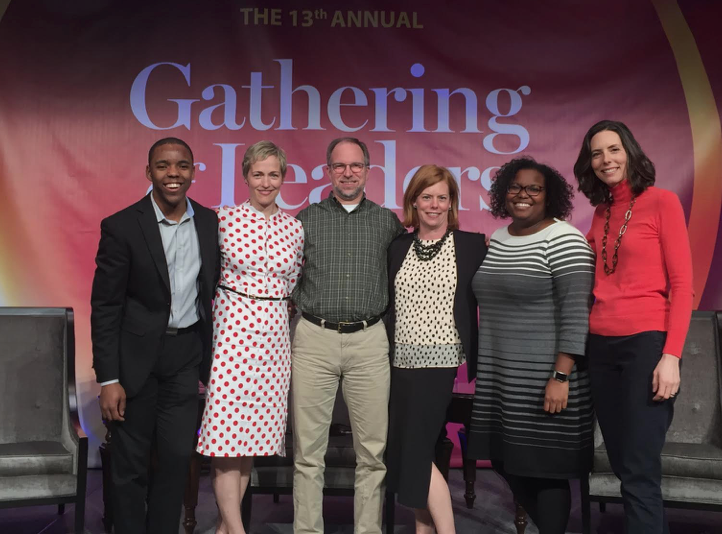 Left to right: Deloitte's Shawon Jackson, Anna Muoio, Allen Ludgate, Dana O'Donovan, Delicia Jones, and Joanna Burleson.
Since 2013, New Profit has collaborated with Deloitte Consulting LLC to do something rare and extraordinarily valuable in the nonprofit sector: provide nonprofits and other social impact organizations with the caliber of strategic support that Fortune 500 companies can access to build and scale their companies and products.

Our goal together has always been to help innovative ideas, leaders, and organizations break through and change lives, communities, and systems at scale. Our collaboration is built on an incredible platform of shared passion for social impact and commitment to the leaders and staff that are on the front lines of social change across America.

Today, as #ProBonoWeek comes to a close and on behalf of our community of changemakers, we want to say, "THANK YOU, DELOITTE!"

Thank you for the staff time, the resources, the expertise, and for being there for us. Thank you, Steven Jennings and Michael Canning, for your leadership and stewardship on New Profit's Board of Directors.

Below are New Profit grantee-partner organizations that have recieved support from Deloitte-New Profit strategy teams since 2013.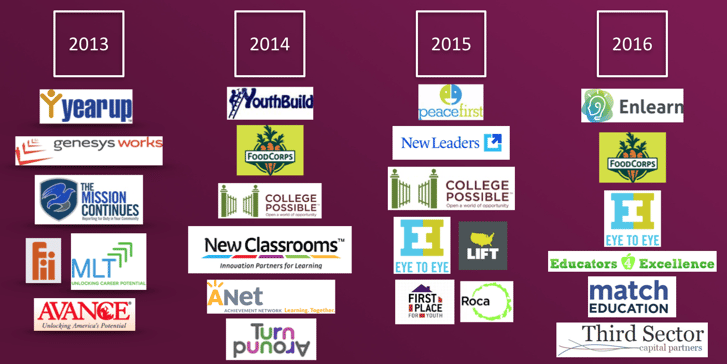 Below are quotes from select leaders about their experience working with Deloitte-New Profit strategy teams:
"Our case team used integrated expertise to help us crystallize our focus for the future. We appreciated that they came to each round of work m

ore informed about our issues and more passionate about helping us increase our impact." -

Steve Arnold, Enlearn Board Chair, Co-founder of Polaris Venture Partners, Vice Chairman of the George Lucas Educational Foundation
"After five years of learning by doing, we were ready for a multi-year strategy. The team helped unlock our own best thinking and built a plan that is ambitious, actionable, and authentic to FoodCorps." - Curt Ellis, Founder & CEO, FoodCorps

"I know it costs Deloitte and New Profit a lot of time and resources to do this work with us, but we feel ready to double our growth and triple our impact. I feel like they will own that success with us." - David Flink, Founder and Chief Empowerment Officer, Eye to Eye National
"In three years, we have built a national network and tripled our staff, but we had no clear view about how to structure ourselves in terms of HQ and state chapters. Deloitte and New Profit helped us break through decisively on that." - Sydney Morris and Evan Stone, Co-Founders & Co-CEOs, E4E
"Match has been a startup for 15 years, and its rare that we are able to step back with real help, real intellectual horsepower and professionalism, to study a problem in depth. Deloitte helped us make a number of breakthroughs." - Stig Leschly, CEO, Match Education

"Deloitte has been a critical partner in thinking through our strategy going forward, and perhaps more importantly, giving us a blueprint for operationalizing our plan so that we can continue to accelerate America's transformation to a performance drive social sector." - Caroline Whistler, CEO,Third Sector
Below is a video message from Sam Hiersteiner, New Profit's Managing Partner for Communications and Corporate Partnerships, about the value of our collaboration with Deloitte:
Click the following links to read some additional pieces for more detail on our collaboration: