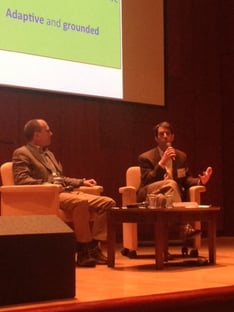 On Friday, April 25th, Communications Associate Alexia Tamer accompanied Managing Director Doug Borchard when he spoke at the SEEED conference held at Brown University. Here are Alexia's reflections on the day...
On a crisp day in late April, social entrepreneurs, university professors, private equity professionals and students gathered together at the heart of the gorgeous campus at Brown University for the third annual SEEED conference. SEEED describes itself as "the first national conference to focus on what is needed to build an effective social enterprise ecosystem that can drive economic development. A collaboration between Social Enterprise Greenhouse, the Social Innovation Initiative at Brown University, Worldways Social Marketing, and the SEEED at Brown student group, SEEED convenes 500+ ecosystem stakeholders including social ventures, practitioners, business leaders, academics, impact investors, students and policymakers."
I was eager to participate—while we came from different sectors, it was clear we were all here for the same purpose: to connect and collaborate with one another. SEEED's annual conference is a great opportunity to learn from some of the most notable pioneers of the social innovation sector and this year's dialogue focused on building and growing an effective social ecosystem that can advance the social enterprise agenda.
New Profit's own Doug Borchard, who was described by the facilitator Michael Allio, as a "titan of social innovation" with cross-sector experience, participated as this year's keynote speaker with Dennis Whittle of Global Changemakers. For the past 15 years, New Profit has not only identified and supported over 40 of the most innovative organizations focused on social mobility through direct capital investments, but has also collaborated with various actors across sectors to seed social innovation and to drive full-scale impact and systemic change.
Rhode Island Treasurer Gina Raimondo, kicked off the conference (and the crowd's energy) with a sense of urgency, decreeing that we simply cannot rely on government alone to effectively tackle social problems. Gina appealed to the inner-activist in all of us when she concluded that the answer wasn't just money or a bill from Congress. High-impact solutions and progress towards true systemic change lie solely in our hands, with a simple answer: we need to collaborate. We need to build and grow a social ecosystem together.
Doug addressed the concept of collaboration head on by sharing his perspective on how to move towards full-scale impact in social innovation by building a social ecosystem. New Profit has found that it is very rare for organizations that we work with to achieve scale on their own; rather, it is critical that each organization exists in an environment that consists of an aligned group with diverse backgrounds and perspectives. In fact, "the more random the group, the better". Building a concentrated place that contains a diverse set of actors aligned around a common goal, or a "Coral Reef" type of environment (as originally termed by author Steven Johnson), encourages organic cross-sector collaborations and brings powerful innovation to scale.
Later in the day, Doug expanded on his earlier keynote, encouraging the audience to consider collaborative funding initiatives like Pay for Success. With the building blocks of a diverse ecosystem in place it will need sufficient capital in order to grow and become effective. This concept can be best exemplified with the new social innovation financing approach called the Massachusetts Juvenile Justice Pay for Success Initiative (MAJJPFS), where up-front investors provide Roca Inc., an organization that has already proven successful impact in reducing recidivism of young men, with direct capital to help it achieve full-scale impact. If the organization is successful in achieving its desired outcome, The Commonwealth of Massachusetts repays the funders, allowing for philanthropic dollars to be recycled. New Profit is actively involved as a funder of this initiative because the end result is a mechanism that makes the government a more efficacious purchaser of services, ultimately directing money to efforts that are both proven and impactful.
The group eagerly engaged in this dialogue, encouraging Doug and other members of the panel to think about toolkits or resources that would accelerate the implementation of Pay for Success in other states.
While there is no exact formula to building and growing a social ecosystem, New Profit and other leading social sector organizations that are seeing measurable impact through ecosystems have provided the guidelines. To achieve full-scale impact, the social ecosystem must nurture organizations that have already proven impact, must consist of diverse yet aligned set of actors, and must embrace public-private partnerships and innovation. Full-scale impact is a palpable concept, and we are seeing an infectious movement across the nation to turn this concept into a reality. We must take advantage of this momentum. We must collaborate to develop a powerful social ecosystem that drives economic development and advances the social enterprise agenda.