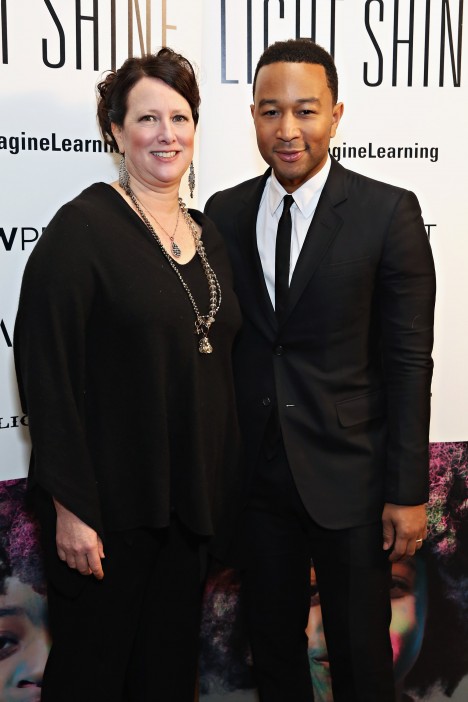 Below is the full press announcement for Reimagine Learning, the new initiative we launched on Tuesday night in New York with an amazing group of supporters and partners.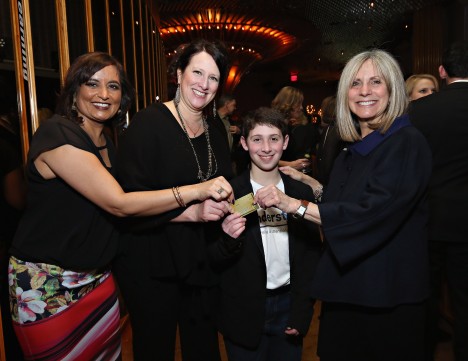 JOHN LEGEND, NEW PROFIT, PUBLIC SCHOOL & WME | IMG UNVEIL REIMAGINE LEARNING INITIATIVE AT MERCEDES-BENZ FASHION WEEK IN NEW YORK
New York, NY – February 17, 2015: Today, New Profit, a pioneering nonprofit venture philanthropy fund, and WME | IMG, the world's leading talent and literary agency, partnered to announce the launch of Reimagine Learning, an initiative designed to support schools and communities in the creation of learning environments that unleash individual promise and creativity in all children. The announcement is being made at an official Mercedes-Benz Fashion Week event tonight featuring Grammy-winning artist and education advocate John Legend, the fashion brand Public School, poet LeDerick Horne, star of ABC's Shark Tank and Understood.org Board of Advocates member and mogul Daymond John, DJ and entrepreneur Hannah Bronfman and nonprofit partners including Understood.org, MIT Media Lab, Peace First, Eye to Eye and Youthbuild USA.
With support from these diverse partners and others, Reimagine Learning will bring new energy to the movement to revitalize American education. The core of the effort is to expand personalized learning approaches that can help all students to identify their strengths and succeed. This initiative is also committed to making a difference in the lives of millions of students who may be marginalized or disengaged in school because of learning and attention issues or social emotional issues.
"We have a powerful opportunity to rewrite the conversation about education in America," said Ari Emanuel, Co-CEO of WME | IMG and Chair of the Understood.org Board of Advocates, and Vanessa Kirsch, Founder and CEO of New Profit, in a joint statement. "By bringing together the creative community, social entrepreneurs, practitioners, policymakers, and funders, we can create student-centered learning environments that empower creativity in all kids."
Reimagine Learning is being launched at a time of convergence of research findings across a wide range of fields – including neuroscience, developmental psychology, psychiatry and information processing – that show learning experiences and environments can be tailored to specific types of students and yield life-long positive outcomes. The work led by Reimagine Learning partners is being driven by new knowledge about the brain structure and function of different learners, the impact of chronic stress on brain development, and the role neuroplasticity plays in students' ability to adapt to, and take advantage of, learning environments. Moreover, there are already powerful examples of educators, practitioners and partners working to apply this research on the ground and empower students to overcome significant barriers to learning.
As Marc Brackett, Director of the Yale Center for Emotional Intelligence, explained, "Emotions matter and matter a great deal in schools. They drive how educators teach and students learn, the decisions they make, the quality of their relationships, their mental health, and their overall effectiveness. For these reasons and many others we must reimagine learning so that every student (and educator) gets the emotion education they need and deserve to thrive socially, emotionally, and academically."
Reimaging Learning co-presenting partner New Profit, which has unique expertise in helping powerful social innovations to reach scale, has raised over $30M of a targeted $50M fund that will provide resources to educators, social entrepreneurs and researchers who are doing cutting edge work to advance personalized learning. Co-presenting partner WME|IMG will mobilize its network of leading artists and entertainers to connect these issues to popular culture and ignite a positive and forward-looking conversation about the future of education. In addition, New Profit and its diverse partners in the initiative will work to change public education policy by removing barriers and incentivizing innovation, while also building capacity for personalized learning that benefits all students.
John Legend celebrated the initiative in a statement: "This diverse group is coming together to reimagine the way young people learn in this country. The good news is that schools and teachers across the country are already applying new and creative approaches to learning. They're working with the same kids who were on track to drop out—kids growing poor and in challenging environments, kids who people used to give up on—and they are achieving academic results that were previously thought impossible. They are proving that demography doesn't have to be destiny. As we seek to reimagine the way young people learn, we will follow the lead of these creative and able educators."
At the launch event, Legend will announce new resources for teachers to innovate in their classrooms to meet the needs of all students, through the 'LRNG' initiative – a collaboration between his Show Me Campaign, the MacArthur Foundation and the National Writing Project. Announcements about additional Reimagine Learning-related initiatives include:
MIT Media Lab will expand its work to create technologies that support learner variability, address learning differences, and increase student agency;
Fifteen non-profit organizations have collaborated to launch Understood.org, a comprehensive, free resource that provides personalized recommendations, access to experts, and a safe community to support parents of the one in five children with learning and attention issues; and,
Peace First, Eye to Eye, and Youthbuild USA will highlight initiatives currently underway to lift up youth leaders who are actively working to rethink how learning happens in their schools and communities.
The initiative has also drawn support from other partners who are looking at ways to create or expand new approaches to learning, including: New Teacher Center, Turnaround for Children, City Year, ANet, New Classrooms Innovation Partners, the Yale Center for Emotional Intelligence, the Center for Individual Opportunity, and the University of Kansas Center for Research on Learning. For a full list of involved partners, please visit www.letsreimaginelearning.com.
Core support for Reimagine Learning has been provided by the Poses Family Foundation, the Oak Foundation, the Peter and Elizabeth C. Tower Foundation, New Profit, Deloitte, and WME | IMG. Support for the Fashion Week event was provided by Atom Factory, Becca Cullati, Deloitte, Image Think, LeDerick Horne, Markham Group, Plenty NYC, Propper Daley, Sam Chaltain, Tobey Maguire Innovation Fund, Sunshine Sachs and WME | IMG.
###