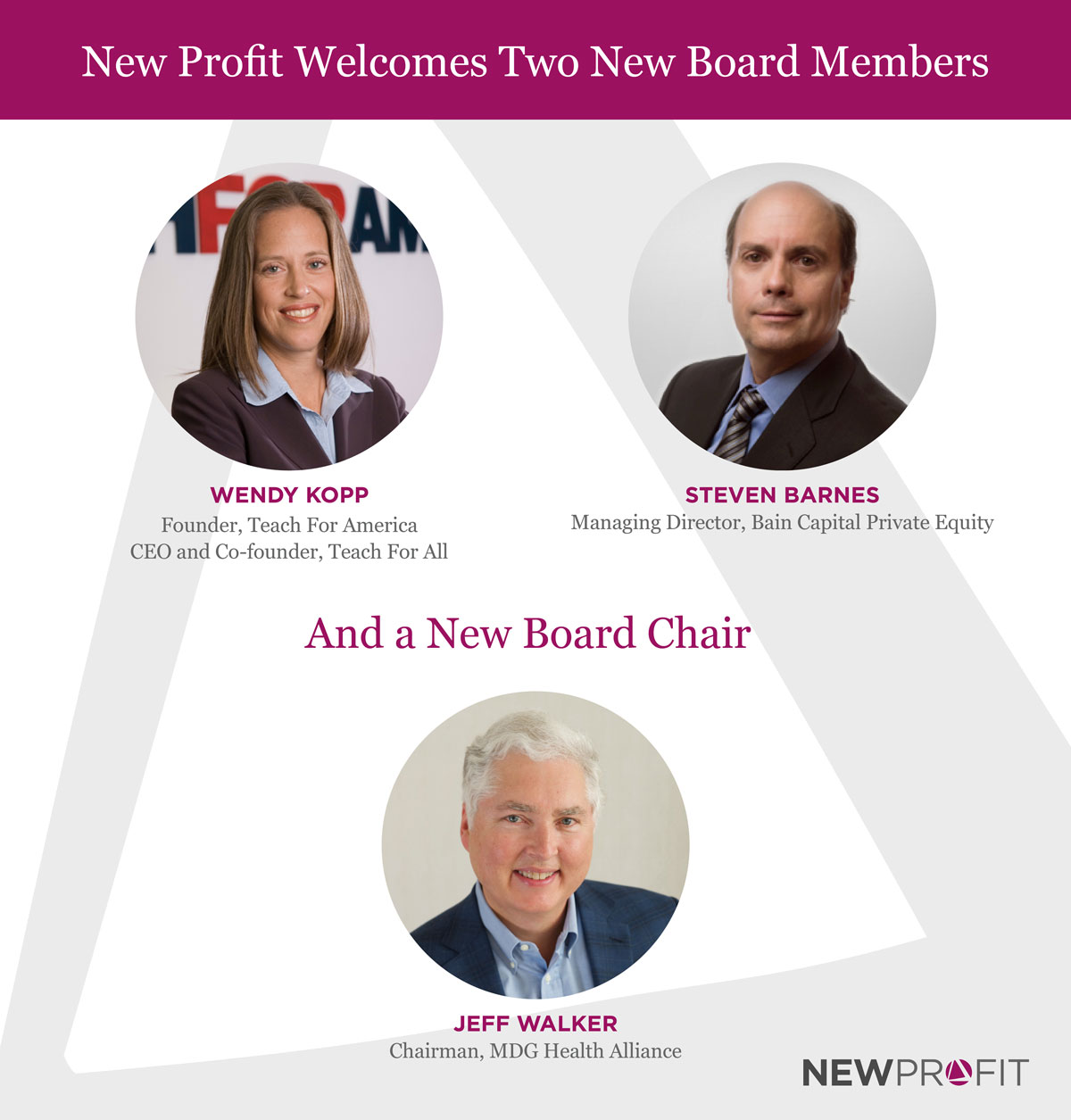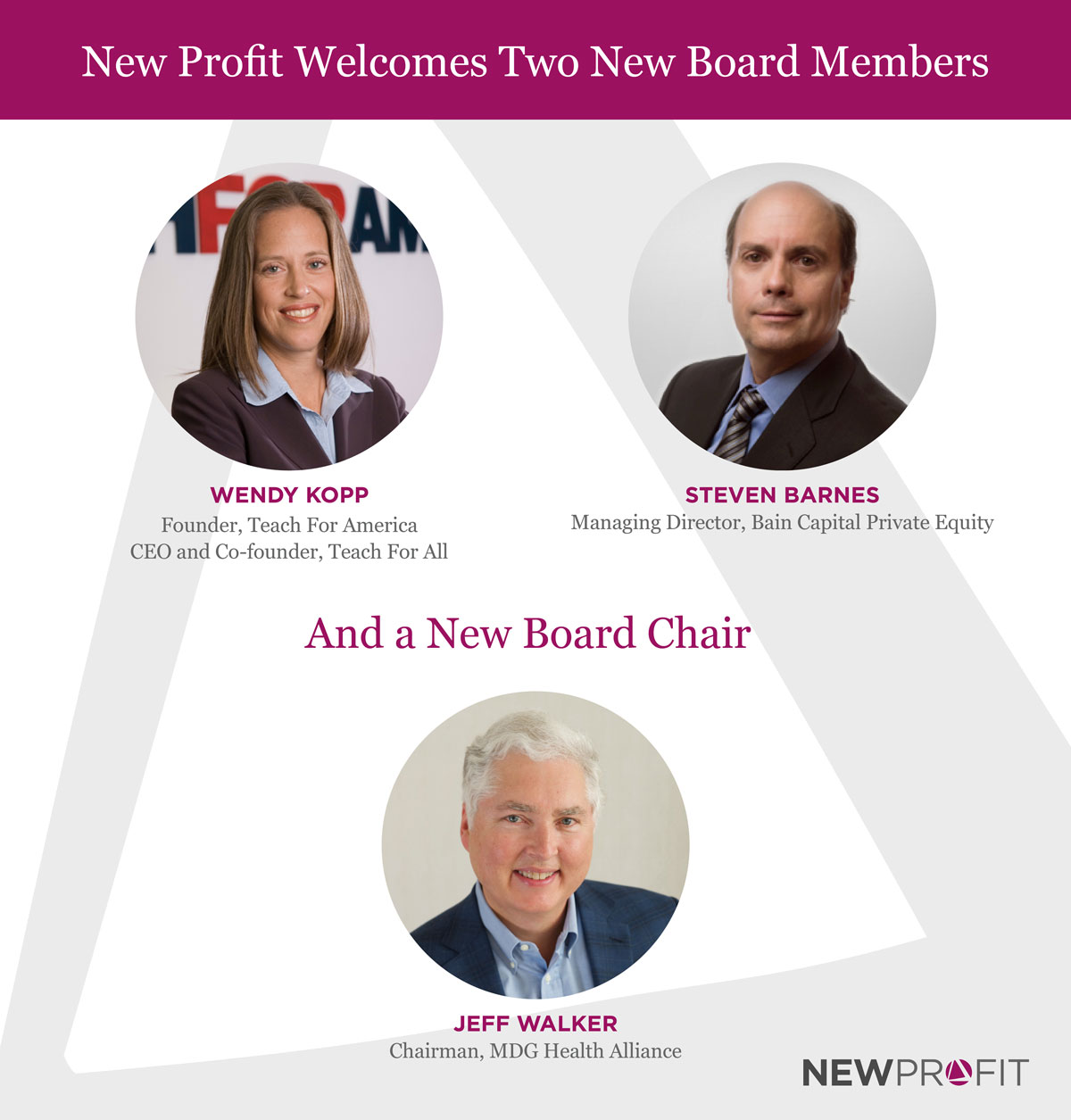 February 25, 2016 (Boston): New Profit, a pioneering nonprofit venture philanthropy fund in Boston, is pleased to announce two new additions to our board of directors: Wendy Kopp, Founder of Teach For America (TFA) and CEO and Co-founder of Teach For All, and Steven Barnes, a Managing Director at Bain Capital Private Equity. We are also excited that Jeff Walker, a longtime supporter and board member, has become the new Chairman of New Profit's board.
To read Walker's first "Letter to the New Profit Community" as Board Chair, click here.
"We feel incredibly fortunate to be adding such energy, passion, and insight to New Profit's board at this moment of evolution for the organization and our network," said Vanessa Kirsch, Founder and CEO of New Profit. "Wendy, Steve, and Jeff are all highly respected leaders in philanthropy and business, and we know that they are going to have an immediate effect on helping us achieve greater social impact."
Wendy Kopp founded TFA in the early 1990s to strengthen equity in education by enlisting, developing, and mobilizing America's most promising future leaders. Thanks in part to her leadership, TFA helped launch the contemporary movement to transform education and produce better outcomes for low-income students. The organization's 50,000 alumni, corps members, and staff have not only directly impacted the lives of more than 10 million children in America, but they have also helped spread a belief in high standards, data, evidence, and accountability across the landscape. Teach For All, the organization Kopp currently leads, has carried this work around the globe as well. Teach For All is a global network of independent organizations in 39 countries (and growing) that are enlisting their nations' most promising future leaders in expanding opportunity for their nation's most vulnerable children.
TFA and Teach For All were among the first organizations New Profit supported after our founding in 1998 and both are among our most successful partnerships. We were honored to attend TFA's moving and inspirational 25th anniversary summit in Washington earlier this month. Kopp is the second social entrepreneur from New Profit's past and present portfolio to join the board, following John Rice of MLT in 2015.
"New Profit's early support for Teach For America and then Teach For All was critical in helping us build on our vision and reach for broader and deeper impact," said Kopp. "I am honored to have the opportunity to work alongside an extraordinary group of colleagues on the board to collaborate and help shape and support New Profit's own evolution."
Steven Barnes has been with Bain Capital Private Equity since 1988 and a Managing Director since 2000. He is one of the organization's most seasoned leaders, having run many of the firm's portfolio companies and mentored other executives across business and philanthropy. He is on the board of the Make-A-Wish Foundation of Massachusetts and CRC Health Corporation, an organization that provides treatment services related to substance abuse, troubled youth, addiction diseases, and behavioral disorders in the United States. He and his family also created the Barnes Family Entrepreneurship Bootcamp for Veterans with Disabilities at the Whitman School of Business at Syracuse University.
"I am looking forward to working with New Profit's staff, our network partners, and my fellow board members," said Barnes. "I believe this community can lead the way to a new era of innovation and problem solving in Boston and around the country."
Jeff Walker has been on New Profit's board since 2010 and succeeds Josh Bekenstein as Chairman. He is Vice Chairman for the United Nation's Secretary General's Envoy for Health Finance and Malaria, and serves on many other nonprofit and for profit boards. He is the author of The Generosity Network, a book about transformational approaches to nonprofit fundraising, and has written widely about other issues in philanthropy. He was formerly an Executive-in-Residence at Harvard Business School and a lecturer at Harvard's Kennedy School of Government. For 25 years, Walker was CEO and Co-Founder of CCMP Capital, the $12 billion successor to JPMorgan Partners, JPMorgan Chase & Co's global private equity unit. He also served as Vice Chairman of JPMorgan Chase & Co., and Chairman of the JPMorgan Chase Foundation.
"I believe more strongly than ever that collaboration and ecosystem building, both New Profit calling cards, are key to breaking through on intractable social challenges," said Walker. "New Profit's board, staff, and broader network are full of entrepreneurial innovators who can break down the barriers standing between people and opportunity in America."