Co-authored by: Shruti Sehra, Managing Partner, New Profit; J.B. Schramm, Managing Partner, New Profit; and Delanoe Johnson, Associate, New Profit
A month after the March For Our Lives brought youth voice to the national stage, Peer Forward and Facebook Education along with a set supporting partners - New Profit, Carnegie, Fossil Foundation, and Deloitte - brought together 160 leaders working to advance youth activation at the vibrant Facebook HQ in Menlo Park, CA.
While there have been pockets of innovation and significant efforts to adapt learning environments to the 21st century, on the whole, the design of today's schools mirrors that of schools built 100 years ago. And yet, we know so much more about brain development and the science of learning than we did even 10 years ago. We believe that it's time that we fundamentally reimagine our approach to teaching and learning in this country to ensure that all students can achieve both academic and life success and thrive in learning environments that support their unique needs, strengths, and interests.
Central to reimagined education is transforming the role of students. Historically, American education has viewed students—especially those from low-income and under-represented communities—from a deficit point of view, seeing them, at best, as empty vessels to be filled or, at worst, to be contained. What if we inverted this paradigm? As our partner PeerForward puts it, "so students are not problems to be solved, but problem solvers?" Through Youth Activation, young people in communities across the country are creating solutions to pressing challenges in partnership with their peers and school leaders. They identify challenges that matter to them; create solutions that make a measurable difference; and partner with school and civic partners to create impact. The challenges schools face are too formidable for us to have our greatest resource sitting on the sidelines.

With that mindset, the team at PeerForward began convening a group of six award-winning Youth Activators, each representing different nonprofit organizations. Over the course of the last year, these young leaders, called the "Design Team," began envisioning how to cultivate millions of Youth Activators. Together with PeerForward, and Facebook, the Design Team organized the Youth Activation Summit to bring together proven youth activators, forward-thinking school district administrators, and leading Youth Activation nonprofit organizations to spark a movement around youth activation in education nationwide. New Profit joined this journey a few months ago and contributed to efforts of the Design Team and the funder collaborative to help plan and execute this event. Through the Youth Activation Summit, school districts eager to incite youth activation in their schools joined together with and nonprofits and youth activators leading efforts to engage youth in social change across the country.
With that mindset, the team at Peer Forward set out over a year ago to design an experience to bring together proven youth activators, forward-thinking district administrators, and leading youth activation nonprofit organizations to spark a movement around youth activation in education nationwide. New Profit joined this journey a few months ago and contributed to efforts of the "Design Team" (a group of six young people who had been meeting regularly to design the gathering), the Peer Forward team, and the funder collaborative to help plan and execute this event. We designed the Youth Activation Summit to bring together both school districts eager to incite youth activation in their schools and nonprofits and youth activators leading efforts to engage youth in social change across the country to collaborate.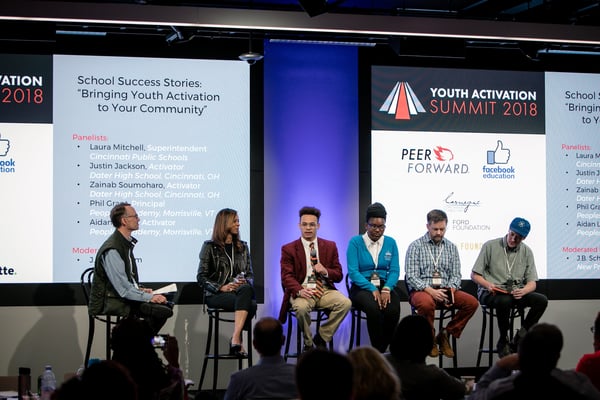 District Action Teams
As part of this effort, we led a competitive process to select 11 district teams, representing mega-urban districts like New York City and Los Angeles Unified, mid-sized cities like Cincinnati, and rural communities in Colorado and Idaho. While the districts were demographically diverse, district leaders all shared a deep and pervasive commitment to youth voice and activation in their work. We learned through the convening that districts like Fresno Unified in California—which has 73,000 students, 90 percent of whom are from low-income families—consider Youth Activation so important that they prioritize this work in their budgets for the year. (In other words, they don't fundraise separately for Youth Activation and only pursue it if they have philanthropic funding for it; it is automatically baked in).
Each district brought to the 2018 Youth Activation Summit a superintendent, two administrators, and two high school students who were considered peer leaders. Over the course of the two-day convening, the students and administrators spent time defining a specific goal they could pursue that they could make measurable progress on over the course of the coming year. And they started to put together plans for how young people and adults in the district could work together to pursue those goals.
For instance, the student Activators from Los Angeles Unified School District (LAUSD) partnered with the districts' education leaders to aim at increasing school attendance. LAUSD has been faced a challenge of absenteeism that the district leadership and school board has been wrestling with for years. In the 2015-16 school year, over 14 percent of students missed more than 15 days of school in the year, and if you add students who missed 8 to 14 days, the number climbs to nearly one third of students in the district. With the students and administrators from LAUSD prioritizing this single, measurable goal, the young leaders began designing campaigns to mobilize and organize students to improve school attendance and help their peers and their community succeed in meeting this goal. At the Summit, we were heartened to hear 11 similar stories of mutually respectful, shared efforts between young leaders and district administrators to achieve meaningful and measurable goals in each district.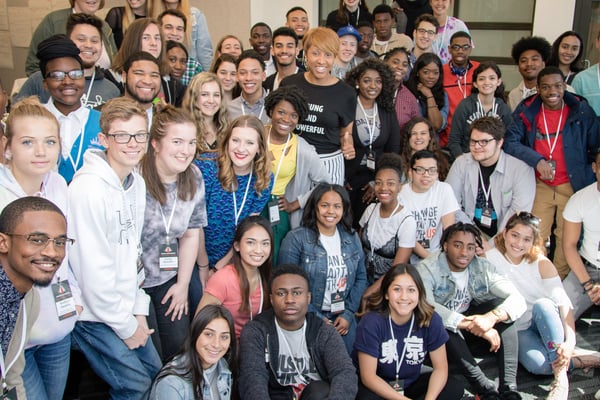 Youth Activators
In addition to school districts, the Youth Activation Summit brought together 60 youth activators from across the country. This diverse group ranged from 16-25 years old, came from various ethnic backgrounds, gender expressions, and demographic regions. Despite all doing amazing work to mobilize and activate youth in their communities, most of them hadn't claimed the identity as a "Youth Activator" or even come to understand what it meant to be "activated" prior to the Summit. This is, in part, because there hasn't been an adequate platform for Youth Activators to congregate and build a cohesive peer support network. It can be challenging to foster community and shared identity across great difference and distance, in particular when one is deeply engaged in their own activation project. For example, who does a Youth Activator in a school in West Virginia dedicated to reducing bullying lean on for support? How would he or she ever learn about the student in Los Angeles, California doing similar work? How could these two students benefit from collaborating and learning from each others' successes and failures?

The Summit laid the groundwork for these 60 youth activators to develop a network of like-minded engaged young people that can support each other as they grow and develop in their leadership. The first step in their journey was to develop a shared understanding of what it means to be a Youth Activator. In a training facilitated by Context Partners, the group took to the Power of Storytelling to use their personal experiences to find their Youth Activation commonalities.
The power of storytelling could be seen in every group session we sat in on. The Youth Activators shared how they got involved in their work, a story they've each told countless times in many different settings. However, in this space and in this community of peers, the group energy shifted as we listened to each other open up about their unique impulses and passions that fueled their projects.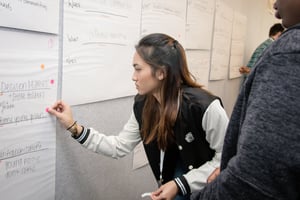 Sharing these personal stories of inspiration reaffirmed the importance of why these young people felt moved to act. For the youth in the room that were earlier on in their journey, these stories of activation provided great examples of the types of projects that they could launch in their communities. A shared best practice among participants was that taking action is always better than doing nothing. Beyond acting, these young people shared how, through intentional focus and planning, they could actualize their visions. In this moment, we witnessed this collective of young people begin to claim and own the title of "Activators."
This strong sense of purpose to act strengthened the group's cohesion and allowed them to work together to workshop their unique stories as Activators into a sentence that encompassed their complex and varied identities. The narrative that stuck with us was: "We are activists for our generation, strengthened by others, with the goal of creating change that extends beyond our community." We are driven by "the vulnerability and potential of our youth, for it makes room for new experiences, an ability to reform structures, the desire to apply new values and morals through the stories that shape us." With a shared sense of purpose and identity, the group could transition into outlining and tackling potential barriers they may face in their work.
The Youth Activators identified key structural challenges as well as more embodied obstacles that come with making the leap from speaking out in a classroom to enacting policy changes through school board participation. In a Youth Activation Panel, Kimberly Pham, a national youth activist, also posed a challenge to the students when she said: "Understand your privilege. Use the space you are in. Lose your fear of asking for something and your fear of titles." She encouraged her peers to recognize that they need to push themselves to fearlessly speak truth even to those in power, as students are experts speaking from personal experience, and that is valued and can be leveraged for change. As students who already identified as Activators, it was powerful to see them calling each other to action and to rise to a higher challenge of being the voice of a movement.
(Youth Activation Panel: Moderator, Delanoe Johnson. Panelists, Clara Lew-Smith, Moises Urena, Kimberly Pham, Fish Stark)
All in all, participants of the Youth Activation Summit left feeling motivated and ready to drive the cutting edge of change to education in their communities, and in so doing, create demonstration points for how Youth Activation can help us realize the change we envision in our communities nationwide. We at New Profit believe that transformative change in our education system can and will involve young people as drivers of change today. New Profit is deeply committed to supporting these efforts and helping to drive Youth Activation nationwide. Please reach out and join us in this work!
For more information about New Profit's youth activation efforts, please contact Delanoe Johnson at Delanoe_Johnson@newprofit.org.