This blog post was written by Sarah Duarte, Communications Intern.
Recently, the New Profit team held our annual staff retreat; a day on which we reflect on the work we have done, reconnect as a team, and rejuvenate our commitment to the New Profit mission. As part of this year's retreat we had the pleasure of watching a poetry performance by Amber Rose Johnson, a current senior at Tufts University, 2010 winner of the Poetry Out Loud National Recitation Contest, and former Citizen Schools teacher; just a few among her many accomplishments.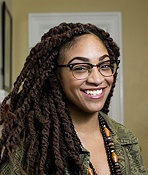 Through two poems, both inspired by her experiences as a sixth grade teacher and the students she encountered, Johnson provided us with a lyrical analysis of today's education system. Using vivid imagery, Johnson was able to take us on a journey from the current state of our education system to her beautiful vision of the future, when "an entire generation, each with their own perfect melody, can play and play and play on high with an entire nation cheering them on." Her words served as a sobering reminder to us all of the individuals whose lives are dictated by a flawed education system and why we are dedicated to creating innovative solutions for this problem, to help bring Johnson's vision out of the realm of fiction and into reality.
The retreat was a great success and the New Profit team has returned to work refreshed and with an increased passion for innovative social change. We would all like to thank Amber Rose Johnson for contributing to an amazing event and sharing her inspiring experiences and visions with us.
To watch Amber Rose Johnson perform one of her poems click here!