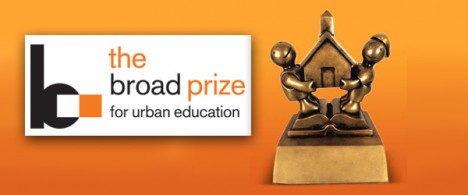 Exciting news! Two New Profit portfolio organizations - KIPP and Achievement First - have been named as two of the three finalists for for the $1M Broad Prize in urban education.
KIPP is a current New Profit Portfolio organization and Achievement First recently completed a successful exit after an investment in 2007 and a reinvestment in 2010. The third finalist is Idea Public Schools headquartered in Texas.
Congratulations to all of the leadership, teachers, students, and parents at KIPP, Achievement First, and Idea Public Schools on this well-deserved recognition and status!
"The $1 million Broad Prize, established in 2002, is the largest education award in the country given to school districts. The Broad Prize is awarded each year to honor urban school districts that demonstrate the greatest overall performance and improvement in student achievement while reducing achievement gaps among low-income students and students of color.

The Broad Prize has four goals:

Reward districts that improve achievement levels of disadvantaged students
Restore the public's confidence in our nation's public schools by highlighting successful urban districts
Create competition and provide incentives for districts to improve
Showcase the best practices of successful districts

Each year, Broad Prize scholarships are awarded to graduating high school seniors in the finalist and winning districts who demonstrate a record of academic improvement during their high school careers, as well as have a financial need. Seniors from the winning and finalist districts are eligible for two- or four-year scholarships of up to $20,000 depending on the type of higher education institution they choose to attend. Since 2002, more than 1,100 students have received scholarships."
For more information on the prize and the process, please visit broadprize.org.