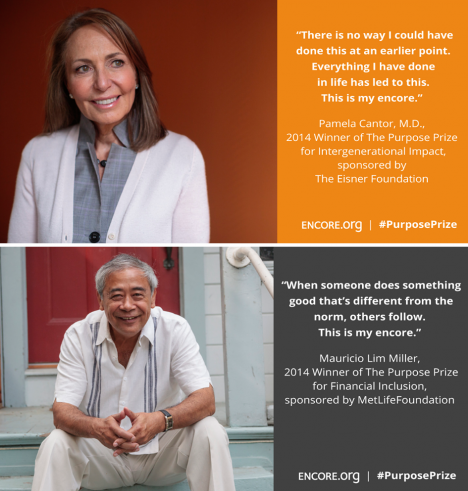 Congratulations to the six winners of Encore.org's 2014 Purpose Prize, especially to two social entrepreneurs who are members of the New Profit portfolio - Dr. Pamela Cantor of Turnaround For Children and Mauricio Lim Miller of Family Independence Initiative!
The Purpose Prize is awarded by Encore.org, which encourages "encore careers" – jobs that combine personal meaning, continued income and social impact – in the second half of life. The prize is billed as the nation's only large-scale investment in people over the age of 60 who are combining their life skills and talents for the social good. Says Eunice Nichols, Director of the Purpose Prize at Encore.org, "Out of a pool of 800 nominees, these six individuals distinguished themselves through their passion, innovation, entrepreneurial spirit and impact. They are powerful examples for the millions of older Americans who believe that using their life experience in order to make a difference – big or small, across communities, continents and generations – is a vital responsibility."
Miller and Cantor will each receive $25,000 as part of their prize, and will be honored tomorrow night at a ceremony emceed by Jane Pauley. Pamela's prize is for Intergenerational Impact and is sponsored by The Eisner Foundation. Mauricio's Prize is for Financial Inclusion and is sponsored by MetLife Foundation. Honorees were selected by 24 jurors including Sherry Lansing, former CEO of Paramount and David Bornstein, author and New York Times columnist.
Says Diana McLain Smith, Senior Partner, Leadership Transformation at New Profit, "It's hard to imagine two people more deserving of a purpose prize than Mauricio Miller, founder of the Family Independence Initiative (FII), and Pam Cantor, founder of Turnaround for Children (TFC). Their ground-breaking insights into poverty--its causes and effects--have had a transformative impact--on schools in TFC's case and on families and communities in FII's."
To read more about the Purpose Prize and the other four honorees, as well as 38 fellows, please click here.