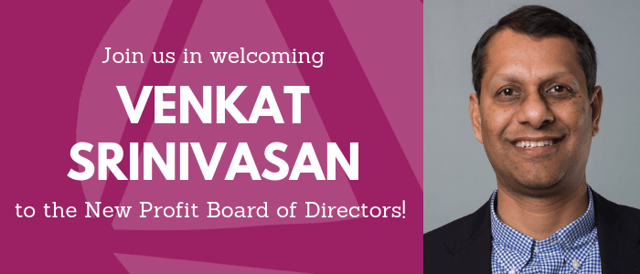 We are excited to announce that Dr. Venkat Srinivasan, PhD, a visionary leader with deep experience in business and social problem solving, has joined New Profit's Board of Directors. A Managing Director at Innospark Ventures, Dr. Srinivasan is a leading technology investor and a serial entrepreneur

who has founded multiple mission-driven enterprises that leverage technology to improve education and health outcomes for vulnerable populations.
Dr. Srinivasan will bring his business and social change leadership experience and expertise in a range of transformative technologies, including knowledge-based systems architecture and artificial intelligence, to the New Profit Board. This comes at a critical time, as the whole philanthropic sector begins to grapple with "future of work" trends that are transforming our economy and society, and their implications for what we do in the social sector.
Earlier this year at New Profit's Gathering of Leaders, Dr. Srinivasan sat down with Marcus Bullock, the founder and CEO of Flikshop and an entrepreneur in New Profit's Unlocked Futures accelerator program, to talk about how technology innovation can play a role in social problem-solving. Their conversation was featured in the #UnlikelyDuos video series, which brings together social entrepreneurs and philanthropists for unscripted dialogues on life experience, personal influences, and learned perspective in change-making. Dr. Srinivasan reflected on this conversation and on the similarities between entrepreneurship and philanthropy in a follow-up piece: "Using Technology—And Eternal Optimism—To Drive Social Change."
"Venkat's incredible entrepreneurial spirit and experience leading mission-driven enterprises, as well as his deep knowledge of technology and the ways it can be employed to catalyze social impact, will add enormous value to New Profit's Board and broader community," said New Profit Founder and CEO Vanessa Kirsch.
Learn more about Dr. Srinivasan and his rich experience as an entrepreneur and investor, and please join us in welcoming him to the New Profit Board of Directors.
Venkat Srinivasan, PhD, Managing Director at Innospark Ventures
Dr. Venkat Srinivasan is a serial entrepreneur. He is currently a Managing Director at Innospark Ventures, a venture fund investing in early stage AI led startups in the Boston area. Venkat has successfully built several knowledge-based technology businesses including eCredit, Corporate Fundamentals, and recently, Rage Frameworks.
Venkat has also founded EnglishHelper, KnowYourMeds, and AI in Gov all of which are double bottom-line enterprises leveraging AI­ technology in education, health, and the public sector, respectively. EnglishHelper is a for-profit social enterprise that provides quality English language education through scalable AI technology. It has been successfully rolled out to over 2.5 million children in underserved communities and has a presence in 8 different countries across the globe. KnowYourMeds improves health outcomes by leveraging AI to reduce medication errors, improve adherence to treatment plans, and proactively alert users about the impact of their dietary choices on their health profile. AI in Gov is aimed at making the public sector become dramatically more efficient and transparent, and improving its engagement with citizens and constituents across the board.
In addition, Venkat has founded Intelligent Machines Lab with a mission to create next generation technology that will deliver software and knowledge on demand using AI.
Venkat is a uniquely experienced individual with expertise in multiple functional areas. He is an expert in knowledge-based systems architectures, natural language processing, computational linguistics, corporate finance, and accounting. From his brief academic tenure, he has over 30 peer reviewed publications, two edited volumes, and more recently, a book to his credit. His research has appeared in a number of prestigious academic journals including the Journal of Finance, Management Science, Financial Management, European Journal of Operations Research, and others as well as business and news publications such as The Wall Street Journal. Venkat holds several patents related to flexible technology architectures and natural language processing. His book titled The Intelligent Enterprise in the Era of Big Data was published by Wiley in 2016 and he is the author of a forthcoming book titled The Rise of Intelligent Machines, also to be published by Wiley. He was honored with a Lifetime Achievement Award by The Indus Entrepreneurs (TiE).
Prior to founding eCredit.com in 1993, Venkat served as an Associate Professor at Northeastern University's Graduate School of Business in Boston, MA. Venkat holds a Ph.D. from the University of Cincinnati, Ohio.
Venkat and his wife, Pratima, are active in the community. Both are significantly affiliated with the American India Foundation [AIF], which is dedicated to catalyzing social and economic change in India. Venkat is a Vice-Chair of the Board of AIF. Venkat also serves as a member of the Board of New Profit, a U.S. nonprofit venture philanthropy fund. He is also a Trustee of BUILD, a non­profit organization focusing on entrepreneurship focused on disengaged, low-income students through high school to college success in the U.S. Venkat also serves on the Advisory Board of the Center for Emerging Markets at Northeastern University.