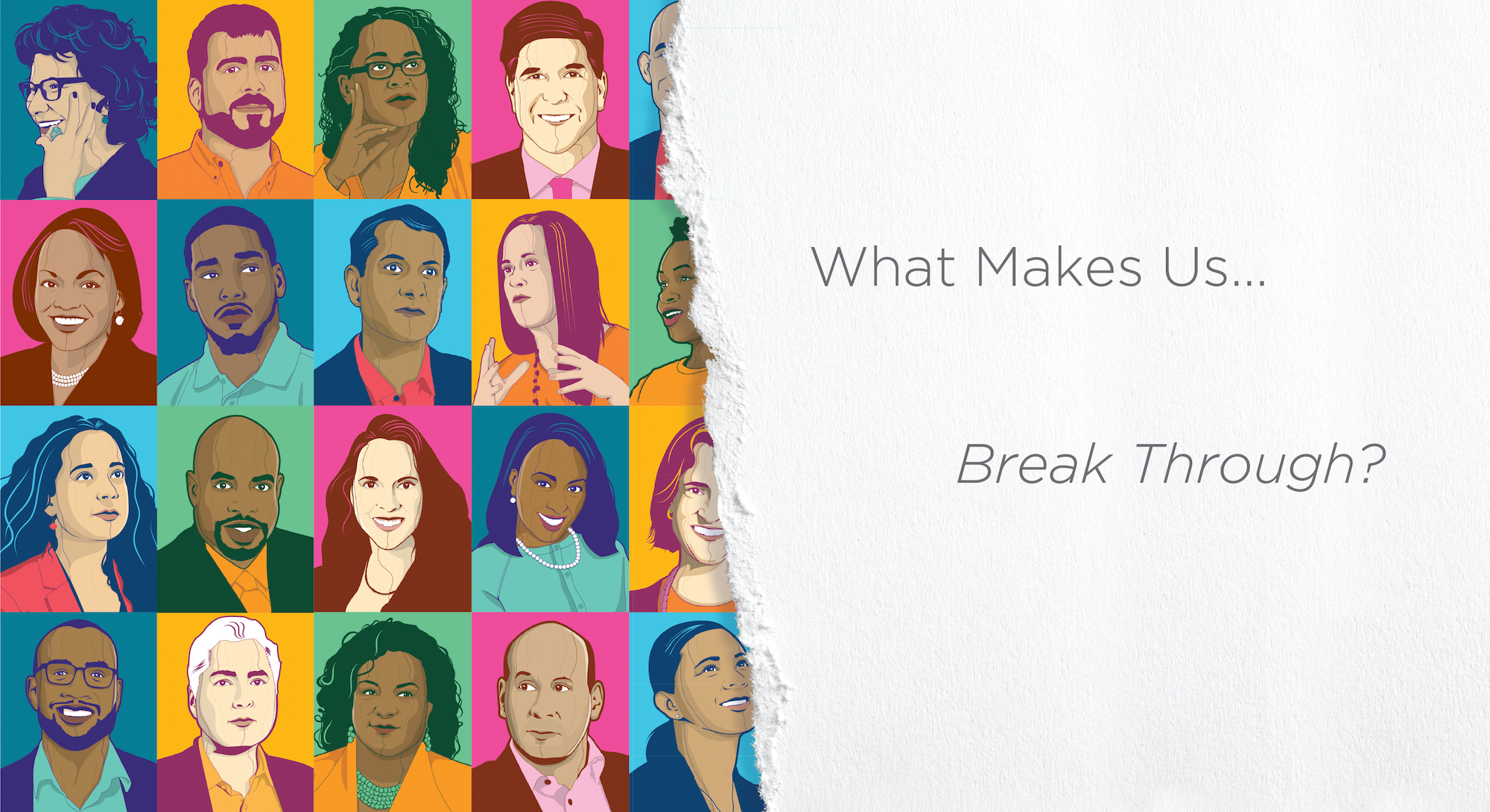 In March, we launched a campaign to shine a spotlight on leaders across America who are taking on some of today's toughest social challenges. But what does it take for them to break through? Keep reading to hear from 20 leaders in the New Profit community that are driving our country forward. What are their goals? What inspires them? What key problems are they wrestling with?
Over the past month, we highlighted one of these amazing leaders and their vision for our shared future. Check out our social media accounts (Twitter, Facebook, LinkedIn, Instagram) to hear more about these breakthrough leaders and the work that they do every day.
As part of the campaign, we also ran a nomination process where we asked people to share with us social impact leaders in their networks who inspire them. We will be picking 5 winners who will get a personalized illustration like the ones seen below (made by the amazing artist Raul Caracoza), which will be shared across New Profit's social platforms. Stay tuned to find out who won and sign up to receive email updates from us here to be among the first to find out!
Check out the bold visions and practical insights from 20 breakthrough leaders in our community below.
---
Desmond Blackburn, CEO, New Teacher Center
Q: What's your call to action for our community?
A: We know the value of educators and their impact on students. I hope that our community not only recognizes this impact but acts on it by joining us in advocating for high-quality professional learning, leadership development, and coaching for educators who serve students with the highest needs.With this support, educators are more effective at all levels, they stay in the profession longer, and ultimately, students learn more.
---
Marco Davis, Partner, New Profit
Q: What's your big audacious goal?
A: To transform the social sector by dramatically increasing the number of leaders of color throughout it, enabling us to leverage all the diverse talent and brilliance in our society to solve some of our nation's most pressing problems.
---
Aimée Eubanks-Davis, CEO, Braven
Q: What is your big audacious goal?
A: Empower more than 100,000 promising, underrepresented young people--first-generation college students, students from low-income backgrounds, and students of color--with the skills, confidence, experiences, and networks necessary to launch successfully into the modern economy.
---
Yordanos Eyoel, Partner, New Profit
Q: How can we make progress towards achieving your goal?
A: We have a crisis of trust in America and a civic ecosystem that is insufficient to counter the magnitude and depth of this problem. Addressing this requires significantly investing in local grassroots-led organizations, which have largely been undercapitalized and sub-scale. We need to invest in grassroots leaders who represent the diversity of our country and have developed breakthrough solutions that target the underlying structural and systemic conditions that have contributed to civic distrust. Wee need to invest in the long game to unlock the latent power of Americans to create the enduring local leadership and infrastructure that will drive and sustain civic participation.
---
Jesús Gerena, CEO, Family Independence Initiative (FII)
Q: What's your big audacious goal?
A: Our goal is that all families across the United States will have access to the resources and opportunities needed to achieve their goals and dreams.
In the past 50 years, with the advent of the social service sector, families have been pointed to agencies and case workers for solutions. We believe and our data proves that the long-term solutions to permanently exit poverty lie within one's own community. Our goal is that agencies, investors, and communities recognize the strength of community-led solutions, see families for their strengths, and invest in families initiatives directly.
---
Teresa Hodge, President & CEO, Mission:Launch
Q: What is your call to action to our community?
A: Hire and place on your board people with a criminal record and broaden your view of inclusion to include people living with a criminal record.
---
Steve Jennings, Principal, Deloitte Consulting LLP
Q: What is your call to action for our community?
A: It is natural to get nervous when thinking about the future of work many people envision a world where technology has replaced people and jobs no longer exist. I have a far more optimistic view. Hobs are not going away; they are changing. The exponential rise in technology and new talent pools (gig economy, crowds) will unleash untapped potential and create more ways to get work done.
We are living in the age of the augmented workforce, where humans and machines increasingly work side by side, freeing up time for humans to focus on higher value work. This is especially valuable in purpose-driven work. The question I want people to consider is "what would you do if you had time?"
---
Yscaira Jimenez, CEO, LaborX
Q: How can we make progress towards achieving your goals?
A: Ability is the measure of ability.We should ban four-year degree requirements for open jobs. We need to work toward a world in which everyone can contribute to our workforce, no matter what degrees they have or networks they are a part of.
---
Helayne Jones, Founder, HBJ Education Strategies
Q: What's your big audacious goal?
A: Like any public structure, our education system relies on designers, innovators, and builders to keep its infrastructure strong and up to date with our changing world. I believe we have a responsibility to provide every child an education that truly prepares them for their future. We can create an education system that meets the need of every student and prepares and empowers them for the choices and opportunities they will face throughout their lives. I want to play a role in identifying and supporting the innovations, leaders, partnerships, and resources that can make this dream a reality.
---
Wendy Kopp, Co-founder & CEO, Teach for All
Q: What's your call to action for our community?
A: I hope the New Profit community will recognize the imperative of enabling all the world's children, everywhere, to fulfill their potential. Our collective welfare depends on it.
---
Tulaine Montgomery, Partner, New Profit
Q: What's your call to action for our community?
A: Despite technological platforms designed to facilitate connection, our society is more segregated than ever across class, race, and ideology. We are using technology to connect to communities and networks that are similar or familiar. The more we can do to "de-other" people and perspectives that are not our own, the better equipped we are to honor and leverage the talent and treasure that exists in all communities. Build relationships with people who are not already in your daily circle. Learn about histories and lived experiences that are not your own. Expand your circle of relationships and knowledge beyond what is comfortable or familiar.
---
Val Mosely, CEO, Valmo Ventures
Q: What's your call to action for our community?
A: Join forces. Let's collectively commit our limited and precious resources of time, attention, skills, networks, and financial assets, and partner with others to support efforts and initiatives that are aligned with our core values of making a difference and having a sustainable and positive impact. Remember, "To whom much is given, much is required."
---
John Rice, Founder & CEO, Management Leadership for Tomorrow
Q: What's your big audacious goal?
A: Too many people, especially minorities and those from lower income backgrounds, are getting lost on their way to the American Dream of economic mobility. The sports world is the one place in our society where if you have talent and work ethic you don't get lost, regardless of your race or socioeconomic background. By bringing the core interventions that have enabled sports to approach a meritocracy—high accountability coaching for everyone at every stage and a high-performance playbook—to the 99% of us who pursue careers outside of sports, we will deliver economic mobility for millions more Americans and transform how our nation develops its young talent.
---
Anderson Sainci, Resource Management Coordinator & Supervisor, City of Dubuque, Iowa
Q: What is your call to action for our community?
A: Create a plan that allows all citizens, particularly individuals representing historically marginalized groups, to thrive in your community.
---
Mora Segal, CEO, Achievement Network (ANet)
Q: What is your call to action for our community?
A: When investing in education, ask about the end goal for students. Educational equity for all students means that our highest need students and students of color are succeeding academically in K-12 so that they are set up for success when they graduate from high school school. We cannot accept anything less.
---
Carmita Semaan, Founder & President, The Surge Institute
Q: What is your big audacious goal?
A: By 2030, the case will no longer need to be made to invest in and elevate diverse leaders. It will not be seen as a moral imperative but simply how smart work is done. Education is liberation and we will lead the charge. Surge's work will influence how we groom and support ALL leaders to lead with their heads and hearts--in authenticity and love--to dramatically improve outcomes and opportunities for students, families, and communities.
---
Deborah Smolover, Executive Director, America Forward
Q: What is your big audacious goal?
A: An America where every child growing up has the opportunity for a safe, secure, and successful life and where anyone who falls off the path to opportunity has a second chance at a better future. Policy can play a critical role in achieving this audacious goal when government invests in innovation, rewards results, catalyzes cross-sector partnerships, and advances equity.
---
Venkat Srinivasan, Managing Director, Innospark Ventures
Q: What your call to action for our community?
A: Embrace the power of technology for social good. Don't be intimidated by it or afraid of it.
---
Aaron Walker, Founder & CEO, Camelback Ventures
Q: What is your call to action for our community?
A: Be Ruthless for Good.
---
Jeff Walker, Board Chair, New Profit
Q: What's your call to action for our community?
A: Put collaboration at the center of your work: partner with other to generate ideas and engage with the people affected by the social issues you are addressing to produce sustainable change with population-level impact.