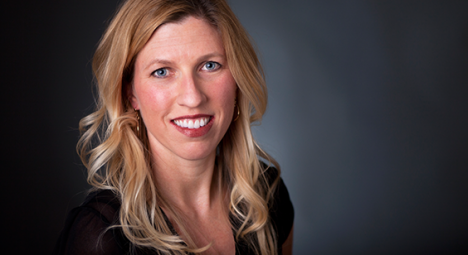 What's a WhyLight? It's a spotlight on members of the New Profit community and why they do what they do. This week, we talk to Addie Chamberlain…
What is your role here?
I manage our efforts to make the whole greater than the sum of the parts by thinking about how to best leverage the great talents, knowledge, passion, and resources of our corporate partners, most especially Deloitte and Bain Capital. We collaborate with these companies in order to dramatically improve our ability to drive outcomes, scale, and innovation in the social sector. I manage the many pieces of those efforts and new opportunities as they emerge by sitting at the intersection of strategy and execution.
What drew you to New Profit?
Vanessa Kirsch! I met her when I became her Chief of Staff on Alan Khazei's 2009 U.S. Senate campaign. She was one of the coolest, most dynamic, and creative people I'd ever met, and I was hooked and wanted to be a part of the social impact model she was driving.
How long have you been at New Profit?
A bit over four years. My first week was the 2010 Gathering of Leaders - now that's a wild way to start to a new job!
What has been your path here?
I've actually had quite a few official and unofficial roles at New Profit. In fact, one of my co-workers even gave me a toy paratrooper as a joke to signify how my role is often to drop into the need or challenge of the moment.
I started off providing management support to Vanessa's work with her portfolio deals, America Forward, and the Gathering of Leaders. I managed the strategy, design, and execution of The Washington Forum, a D.C. convening which provided those more policy-focused folks in our community with an opportunity to exchange innovative ideas and information and discuss the opportunities and challenges present across today's social innovation landscape. I have also managed Vanessa's support team and production of our 2012/13 annual report (wow, if you want to learn about a company, do that!!). The past year and a half I've mostly been working in my current role of managing our partnerships.
What is your favorite part of working here?
The people, the culture, and the thrill of being a part of what we're accomplishing. Every single person I work with is outstanding - both as colleagues and personal individuals. In a very positive, supportive way, you really have to bring your "A" game to work around this place, and every day is the opposite of a snooze.
What are you passionate about (besides New Profit, of course)?
International issues. It's imperative that people and organizations, in the U.S. especially, move more quickly along the trajectory of building out a robust global perspective and stronger association to their global citizen status. We're all on this ball together and there is so much to understand and learn from one another. Because of this, I do a lot of volunteer work for my alma mater, The Fletcher School at Tufts, and have sat on the leadership team of the Boston chapter of Acumen.
What's on your bucket list?
To go heli-skiing in the Valdez range in Alaska and to play with a baby panda.
What is the most surprising thing about you?
My presence constantly makes street lights burn out. I grew up on a dead-end dirt road in rural Maine where I ran amok in the woods and the fields. We had pigs, which I loved, and chickens, which I hated. And I could teach a graduate-level class in yard-sale negotiations.