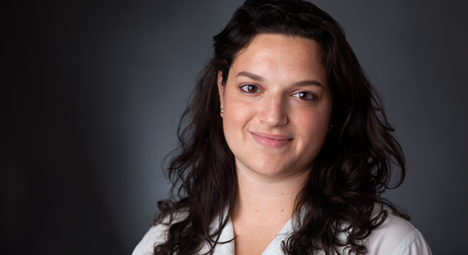 What's a WhyLight? It's a spotlight on members of the New Profit community and why they do what they do. This week, we talk to Hannah Gallo…
What is your role here?
I'm an analyst on the Pathways Fund. Pathways is a collaboration between public and private sectors through the Social Innovation Fund. We focus on getting low-income, first generation, and/or opportunity youth to and through post-secondary education and into meaningful, living-wage employment. I'm a second on the iMentor deal, providing Doug Borchard with all the support he needs to successfully coach, consult, and advise Mike O'Brien and the fabulous team at iMentor on improving outcomes, scaling their model, and strengthening their organizational structure.
What drew you to New Profit?
Honestly (I'm known for my honesty around these parts), it was the unique combination of for-profit drive and ambition with non-profit mission-driven aspiration. Much of my experience at other nonprofits had been underwhelming: really good, important work but a kind of lackadaisical atmosphere and the people were not as Type-A as I am. So when I looked at management consulting, I felt like I would get the kind of competitive environment I was looking for but it lacked the passion for leveling the playing field. New Profit marries the two.
How long have you been at New Profit?
A little over two years.
What has been your path here?
Oh wow. I started as a temp! I was Tripp Jones' Executive Assistant for a quick four months, which is where I really fell in the love with the place. I was like, "The work is fascinating. My boss is super supportive and empowering. The people are wicked bright and best of all, I'm totally, 100% myself at work." When that opportunity closed out, I joined the Development Team as the Special Projects Coordinator. But my heart has always been in the more program-focused side of things, so I applied to be analyst, got put through my respective paces, and joined the Pathways team almost a year ago to the day!
What is your favorite part of working here?
That each day I wake up excited to come to work. I realize that sounds so corny, but I love working here. I have made incredible friends, incredible mentors--I wrote down a few months ago, during a particularly rocky time in my personal life, that New Profit was like the best kind of parent: unconditional love but really tough on you when you need it most.
What is the most surprising thing about you?
Well, considering how secular my work and my community is, I'm an incredibly spiritual person. I'm applying to divinity school to become a Unitarian Universalist minister and I think when folks meet me, given my sarcastic sense of humor and my East Coast reserve, they would never expect that I try to see the good in everyone and everything and to make my presence a blessing in people's lives.
What's on your bucket list?
Eat my way through Japan. As passe as it might be, I'm really into, and knowledgeable about, sushi. And ramen.
Own a home near the ocean. And do the work on it myself. Preferably in Maine. With chickens. FRESH EGGS!
Get my motorcycle license. And buy a motorcycle. But don't tell my mother.