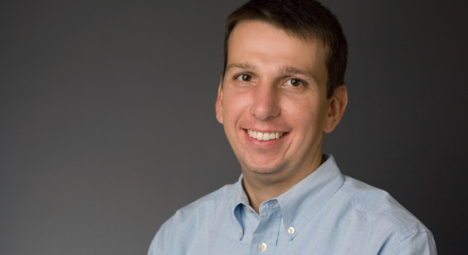 What's a WhyLight? It's a spotlight on members of the New Profit community and why they do what they do. This week, we talk to Kevin Greer…
What is your role here?
I'm an Associate Partner on our Portfolio Investments Team (PIT). In my role I work closely with two portfolio organizations (College Summit and Eye to Eye), and am also involved in our team's efforts to further increase the consistency and quality of the deal support we provide to our portfolio organizations. I also play a role in leading some of our learning initiatives—both with our portfolio organizations (convenings that bring together their senior leaders), and internally within our team (knowledge management).
What drew you to New Profit?
Two things. First, I was inspired and intrigued by the organization's application of principles from the private sector (e.g., focus on measuring outcomes, investment in leadership/capacity, strategic planning, growth funding, etc.) to the nonprofit sector. Second, Martha Piper. Martha is a former Partner at New Profit, and a former senior executive at Corporate Executive Board where I worked previously. I knew Martha vaguely from CEB, but once I interviewed with her at New Profit, knew that she was someone I wanted to work with and learn from. (Editor's note: Martha is now SVP, Strategy and Growth at Rare, a former New Profit portfolio organization.)
How long have you been at New Profit?
Four and a half years now.
What has been your path here?
I interned at New Profit for a summer while I was still in grad school. During my internship I was able to learn about a lot about the different types of work New Profit does—from selecting new organizations to supporting deals we work with to building some internal tools and Intellectual Property. Since joining full time as a Manager I've worked on a variety of different projects, all within our PIT team.
What is your favorite part of working here?
Like others have said, the people here are absolutely incredible. I've never before come across a group of such intelligent, thoughtful, committed, and inspiring individuals in my life. It's an absolute privilege to get to work with so many amazing people on a daily basis. I also love the work—and specifically, the fact that every day brings something new. While it's challenging in many ways, I've really come to enjoy and embrace (and learn from!) the constant motion we're in as an organization, and the opportunities and excitement that dynamism creates.
What is the most surprising thing about you?
There's not one thing I'd say is incredibly surprising about me—so I'll go with a range of things that may be moderately so:
my great-great-uncle invented dental floss
I love jazz and played the trombone for 8 years (Bob Searle and I are 2/5 of the way to starting New Profit's first brass quintet)
I went to my high school senior prom with my (now) wife
What's on your bucket list?
I'd really like to get a hole-in-one someday, but given the arrival of my son last August, the amount of time I have to work on my golf game has radically reduced the likelihood of that happening.