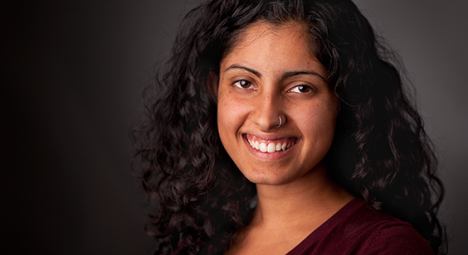 What's a WhyLight? It's a spotlight on members of the New Profit community and why they do what they do. This week, we talk to Nithyaa Venkataramani…
What is your role here?
I'm New Profit's Talent Fellow. In my role I support all aspects of talent management and people operations from recruiting, hiring and onboarding to performance management processes, professional development opportunities, and organizational culture strategy. I've worked on searches from entry-level to Partner in my time here so far, as well as many awesome engagement initiatives to strengthen our culture and team. I'll also be managing our summer internship program in a couple months!
What drew you to New Profit?
Over the last few years I worked with a variety of nonprofits in the United States and abroad, and one of the most complex challenges I saw many of them facing was the support to scale their efforts to achieve even greater impact. As one of my mentors in college heard me talk about my passions and interests in this sector, she recommended that I talk to Kathryn Price at New Profit. Listening to Kathryn talk about her own tenure at New Profit and the vision and mission of the firm made everything I had been thinking through click right away, and I'm so grateful she made the time!
How long have you been at New Profit?
I've been here for about 8 months so far.
What is your favorite part of working here?
A few things: First, I love that no day is the same here because of all the different types of work that I'm involved in and the fast-paced, entrepreneurial nature of our culture. One day could easily involve a series of interviews for an interesting hybrid role, a strategy session on evolving our professional development opportunities, a design and planning session for a team retreat, and coffee with colleagues to chat about life and work and more. The variety keeps me constantly challenged and engaged in what I'm doing. Second, I feel incredibly lucky to be surrounded by some of the most driven, intelligent and thoughtful people I have ever worked with here. I love being able to meet new people all the time who are interviewing here and share my genuine excitement about our culture and team. Finally, I've learned so much about hiring and culture over the last few months from my team here and really feel like I have people supporting and coaching me and thinking about my growth. They also know how to keep things fun, and that's really unique.
What is the most surprising thing about you?
I was born in India and moved here with my parents when I was very little, but I'm extremely close with my entire extended family. When I was engaged in work in India throughout college, my grandparents, uncles and aunts were absolutely instrumental in supporting my friends and I in both our work and exploring the country together. Even though I'm not able to see them as often as I would like, we're in contact all the time (thanks WhatsApp and other forms of technology!) and I'm glad to have such a large, fun and quirky family behind me every step of the way.
What's on your bucket list?
I'm a travel nut, so most of my bucket list includes destinations I'd like to backpack through. The one at the top of the list currently is from the north to south of Chile.